Cruise Guide to Melbourne, Australia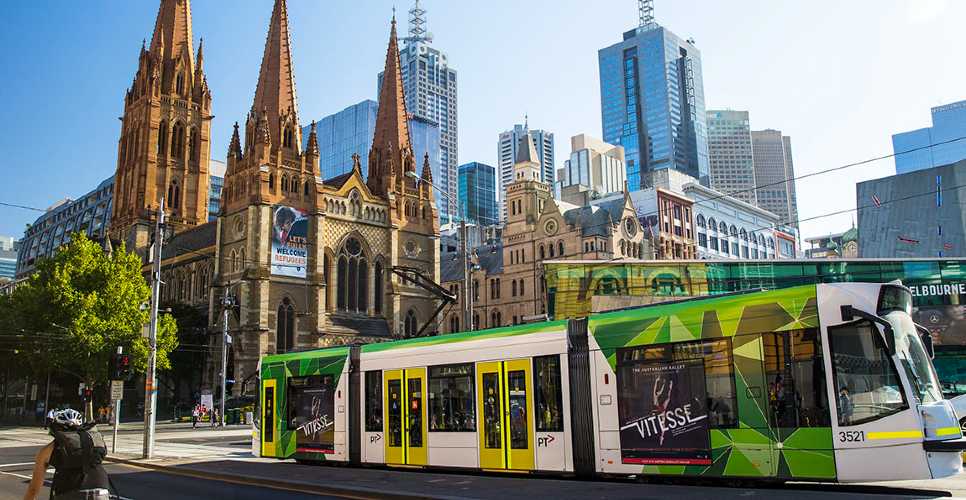 Melbourne is Australia's second-most populous city and former administrative capital. Today, it's recognised as Australia's cultural and fashion capital with a vibrant European-like atmosphere. It is home to numerous bars, cafes and restaurants, heritage listed buildings, as well as museums and art galleries. Summer is a great time to visit Melbourne. Its climate is mild compared to that of rival city Sydney, and Melbourne is also host to the Australian Open then as well. Overall, cruises from Melbourne make for a great holiday option thanks to Melbourne's diversity and endless amounts of things to do and see.
Fast Facts about Melbourne
Melbourne was Australia's capital for 26 years. It has the fourth largest tram system in the world and the fourth-largest outside of Europe. Originally, Melbourne was named Batmania. Melbourne is arguably the nightlife capital of Australia, though until 1966 all pubs had to be closed by 6pm. Today, the city has the highest number of restaurants and cafes of any city in the Melbourne. Australian Rules Football (AFL) was invented in Melbourne, and the city is considered the sporting capital of Australia. In fact, it is the only city in the world that's home to five international-standard sporting facilities. The coldest day ever in Melbourne was -2.8 °C and was recorded on 21 July 1869. The coldest day ever in Melbourne was 46.4 °C and was recorded on 7 February 2009. Click here to view the current weather forecast for Melbourne.
Cruises departing Melbourne
The Melbourne Cruise Terminal where your cruise ship will dock is located just 5km from the city centre. It's also located right by Port Melbourne Beach. It takes approximately 15 minutes to get to the CBD, so catching a taxi is a viable option. Just about all major cruise operators, including Carnival, Cunard, Princess Cruises, P&O Cruises include Melbourne as part of their itinerary. Cruises departing from Melbourne depart during Australia's warmer months, a cruise length is from as little as 2 nights to well over 30 nights, so there are plenty of options to choose from.
Tourist Attractions in Melbourne
Australia's second-largest city is famous for its culture, fashion and abundance of laneways and arcades. Thankfully, most of the major tourist attractions are located in close proximity to one another, meaning you will be able to fit them all into your Melbourne cruise holiday.
Federation Square
A centre for arts and cultural events in the heart of Melbourne, Federation Square is a must-see tourist attraction. The landmark is located right across the road from the famous Flinders Station and St. Paul's Cathedral. Nearby, there are plenty of cafes and the Square also backs onto the Yarra River, making it a great spot for relaxing and people watching. You should keep your eye on what's on at the cultural precinct, as there are events held year-round. You can also rent a bike from here, which makes for a great way to explore the city of Melbourne.
Flinders Street Railway Station
Right across from Fed Square is the Flinders Street Railway Station, another must-see tourist attraction in Melbourne. Before Fed Square come about, this was the most-common meeting point among locals, who would usually say "meet me under the clocks". The phrase come about because of a set of clocks that are located just overhead at the main entrance. Dating back to 1860, they display train departure times.  With over 1,500 trains and 110,000 commuters passing through daily, this is the oldest and busiest railway station in all of Australia. It represents one of the grandest displays of architecture in the city, so be sure to take your camera for a few snaps.
St Paul's Cathedral
Located across both Flinders Station and Fed Square is St Paul's Cathedral. Another must-see tourist attraction, the cathedral is one of Melbourne's major landmarks. It was built in the English Gothic Revival style between 1880 and 1891, though two spires were added later on, and construction took place between 1926 and 1932. Aside from being a major architectural landmark, it is a significant part of Melbourne's history, as the first ever service in Melbourne was held on the site of today's cathedral in 1835. Like with many other Christian cathedrals, the plan of St. Paul's is that of a Latin Cross, with a long nave, flanking aisles, short transepts, tower at the crossing and a pair of towers above either side of the entrance.
Royal Botanic Gardens Victoria
For a peaceful stroll alongside tranquil lakes and through lush vegetation, head to the Royal Botanic Gardens. Founded in 1846, the expansive parkland is spread across 36 hectares. It boasts a rich and diverse collection of plants, including 50,000 individual plants and 8,500 species displayed across 30 collections. The Royal Botanic Gardens provide an excellent chance to see some native vegetation, including eucalypts, the 300-year-old Red River Gum and the Separation Tree. If you're travelling with kids, then the Children's Garden located just off site is a great place to go as well.
Eureka Skydeck
For panoramic views of Melbourne's CBD, head to the Eureka Skydeck during your cruise holiday. A must-see attraction, the tower is 297 metres high, and the elevator taking you to the top gets you there in just 40 seconds. Overall, the Eureka Tower is the third-tallest building in Australia and the fifteenth-tallest residential building in the world. The observation deck is known as The Edge and is the only one of its kind in the world. Once you're at the top, you will be able to see as far as Port Phillip Bar, Albert Park Lake and the Dandenong Ranges. You will also be able to recognise some of Melbourne's top tourist attractions, including Flinders Station, the MCG and Fed Square.
National Gallery of Victoria
If you're into the arts then you can't leave a trip to the National Gallery of Victoria off your cruise holiday itinerary. This is the oldest and most-popular art gallery in all of Australia. Founded in 1861, over 2.6 million people visit the gallery annually, which is over 1 million more than the second-most-visited art gallery in the country. It is home to over 73,000 artworks, including a comprehensive collection of Australia, Aboriginal and Torres Strait Islander works. One of the highlights inside the National Gallery of Victoria is the suspended stained-glass ceiling, the world's largest piece of suspended stained glass.
Hosier Lane
One of the most recognisable tourist attractions in Melbourne, Hosier Lane is an unmissable part of any cruise holiday to Australia's culture capital. One of the most popular places to see in Melbourne, the pedestrian laneway is known for its graffiti lined walls. Both international and local artists have used the walls of Hosier Lane as a temporary canvas to express their talent. While you're here, you can make a pitstop at one of the cafes or you can decide to explore the other famous laneways of Melbourne, which we'll get to in a second.
Melbourne's Laneways
No Melbourne cruise holiday is complete without visiting the city's famous laneways. In fact, the city has over 40 arcades and laneways combined and is one of the things its best known for. Throughout the laneways, you can discover hole-in-the-wall cafes, famed restaurants and covert boutiques. Meyers Place, Centre Place, Hardware Lane and Block Arcade are among some of the city's oldest and most popular. If we're to pick one thing that you can't leave off your list of things to do in Melbourne then this is it.
Restaurants in Melbourne
Melbourne has a very European-like feel and many of the city's restaurants are influenced by Greek, Italian and other European cultures. It doesn't stop there though, in Melbourne you can also find your fair share of Asian cuisine, and of course, traditional Aussie meals with a modern twist. Below, we've listed some restaurants you can't look past during your cruise holiday to Melbourne.
Chin Chin
Considered by many to be Melbourne's most successful restaurant, Chin Chin introduces to the flavours of Southeast Asia. Open from 11am until late, waiting times are known to be quite long at Chin Chin. So, arrive early in the day and make a reservation for later on. The menu is extensive and features all manner of meals, including pad thai, massaman curry, fiery papaya salad and roti. Also, if you're a vegan or vegetarian then you are covered here as well. To pair your food with the right drink, Chin Chin offers its own line of Asian-style beers, local and imported wines, and bar-quality cocktails.
Grossi Florentino (oldest in Melbourne)
Include Melbourne's oldest restaurants in your cruise holiday itinerary and head to Grossi Florentino. Occupying a two-storey building, the restaurant spills out into the walkway during the city's warmer months. Inside, a warm interior greets visitors with large traditional-style murals on the walls. There are three separate dining areas. The first, Florentino offers traditional meals with a contemporary twist. The Grill is home to casual meals with a Tuscan influence. Finally, Cellar Bar is the home of pasta at Gross Florentino. Be sure to make a reservation. The restaurant is open for lunch from Monday to Friday and for dinner from Monday to Saturday.
Ezard
If you're after an Australian-style fine experience then don't look past Ezard, located in Flinders Lane in the heart of Melbourne. Established in 1999, head chef Teage uses cooking techniques from Southeast Asia and applies it to Australian produce. When you dine at Ezard, you can choose from a three-course a la carte menu or a 5-course tasting menu for lunch. Or, head to Ezard for dinner and indulge in the signature 7-course tasting menu. The wine list is extensive and can set you back as far as $75 per glass. Like with all other reputable restaurants in Melbourne, make sure you reserve your spot in advance.
Bars and Pubs
From hole-in-the-wall pubs throughout Melbourne's laneways to beachfront bars, Melbourne loves a drink. Australia's vibrant cultural capital is home to a huge variety of bars, clubs and pubs that cater to every taste. Below, we've mentioned some you absolutely can't miss, though we feel that Fall from Grace and 1806 each deserve an honourable mention as well. Here's our list.
The Esplanade Hotel
One of Melbourne's most famous and iconic pubs is located in the nearby beachside suburb of St. Kilda. Referred to locally as the Espy, the laid-back hotel looks out toward St. Kilda Pier. If you're here on a hot summer's day then the Espy makes for a great pit stop after swimming at St. Kilda beach. Here you can eat from the Espy Kitchen or sip on some cocktails from the Mya Tiger cocktail bar. There are three stages where live music performances are held, and each caters to a different taste in music.
Ms Collins
Melbourne has quite the vibrant nightlife and Ms Collins is at the forefront of it all. Open from Wednesday to Sunday, Ms Collins is a restaurant and bar by day, and a nightclub during the evening. Latin, hip hop and electronic music are usually on the agenda to attract partygoers. Though, new concepts are constantly being thought up to keep things fresh. If you love your whiskey then this is the place to go. Presented by Glenfiddich, The Whiskey Boutique is a bespoke space inside the nightclub that houses some of the best whiskeys from all around the world.
Shopping
Melbourne is widely considered Australia's fashion capital, so you're in the right place if shopping is on the agenda during your cruise holiday to Melbourne. There's something here for every budget, with every-day and exclusive designer brands located throughout the city. Below we've listed some of the best places to go shopping in Melbourne.
Melbourne Central
Located in the heart of the city, Melbourne central is home to over 500 retailers spread across 5 floors in an American-style shopping mall. Here you can find both local and international brands, including R.M. Williams and Nike. You can buy anything from clothes and electronics stores to news agencies, bank services and a cinema. If it's 'bucketing down' rain outside then Melbourne Central is a good place to seek shelter. If you're after a bit then the on-site food court has you covered with plenty of fast food stores located throughout, including Subway, KFC and Grill'd Healthy Burgers.
Queen Victoria Market
Considered a major landmark in Melbourne, the Queen Victoria Market is the largest open-air market in the southern hemisphere. Taking up some 17 hectares, the Queen Victoria Market has been around since the 1878. Occupying two city blocks, the market is divided into the lower and upper markets. The highlight of the market is the Meat Hall, which still boasts its original prominent façade. There's something here for everyone, including fresh local produce, coffee, specialty products from local artists and designers, and you can even get a haircut here if that's what you're after. Overall, the Queen Victoria Market should be on your list of things to see in Melbourne.
Beaches
Melbourne might not be the first Australian city that pops to mind when you think of beaches, but the beaches here definitely shouldn't be overlooked. One of Melbourne's most famous beaches is Brighton Beach, which is known for its bathing boxes – the vibrantly coloured beach cottages you see on Instagram. Though, as it's a bit too far from the CBD, we're just going to give it an honourable mention. Below, we've listed some must-see beaches in Melbourne.
St Kilda Beach
Considered Melbourne's most famous beach, St. Kilda beach is a 700m stretch of soft golden sand that you should include as part of your Melbourne cruise itinerary. The beach is a popular kite surfing spot among locals, and while you're here you will be able to visit famous landmarks including the St. Kilda Pier and St. Kilda Sea Baths. Also, don't miss the many restaurants and bars located throughout Acland and Fitzroy Street. It's just a short tram ride from the CBD to St Kilda, so don't be put off by the fact that the beach isn't right by the CBD.
Port Melbourne Beach
Port Melbourne Beach is surrounded by some of Melbourne's most exclusive real estate, bay-front restaurants and hotels. So, if you're after a balmy climate topped off by soft golden sand then Port Melbourne Beach is a great place to go for a dip. From here, you should also be able to catch a glimpse of your cruise ship. Though Port Melbourne Beach is predominantly surrounded by modern developments, you will also be able to find restored cottages and old pubs throughout the beachside suburb as well.
---
Author: Sophie Anderson
Post Date: 22nd January 2020
---
Categories: Ports