Cruise Guide to Amalfi Coast, Italy
It's an absolute blessing finding yourself on the sunny Amalfi Coast for a cruise, and whether you're stopping over, departing or have your cruise terminating here, we have the absolute best attractions for you below. Spotlighted in countless Hollywood films, the Amalfi Coast is ready to display some of the best landscapes and architecture in Italy, and with its hillside towns and authentic Italian restaurants, you'll have plenty to see, do and eat. One thing to keep in mind is that our attractions are quite spread apart across Amalfi, so having a hire car or being prepared to take a few busses here and there might be a good idea. In the end though, Amalfi is undoubtedly worth the hassle if you're not equipped with a hire car.
The official Amalfi Tourist Office is a great place to start to plan your stay on the Amalfi Coast. It was definitely a hard choice, but here are our favourite Amalfi Coast things to see and do:
Villa Rufolo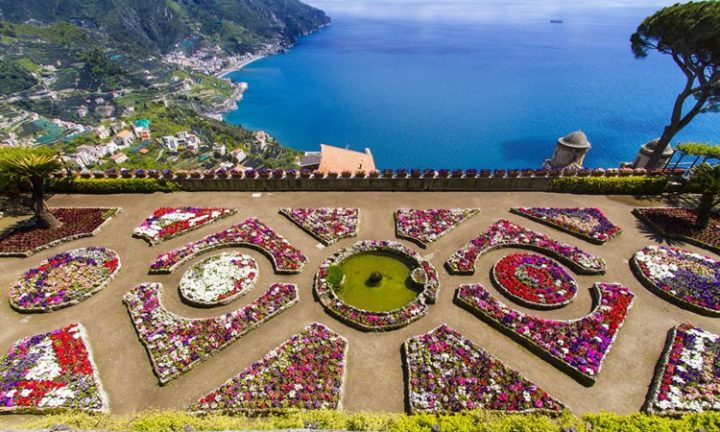 Without seeing the Villa Rufolo, you're missing some of the best Amalfi has to offer. The Arab-style villa sits atop some of the highest points on the coastline and offers by far the best view in the area. You'll have restricted views of the towns below, as well as the ocean and the mountains as well.
Keep in mind that the Villa Rufolo sits are around 400 metres above sea level, so if you're coming from a ferry or find yourself on the beach, there might be a bit of a walk to get up here. There is however a bus for 1.30 euro, though its operating times change through the seasons, so make sure to take a look once you arrive at the foot of the mountain.
We suggest you spend at least a few hours here as you'll want to take a walk through the sprawling manicured gardens and have the chance to take plenty of photos. There's also food on site and drinks too, so staying half the day or even the entire day here is no problem at all, you'll have plenty of options to keep you full and hydrated.
Church of Santa Maria Assunta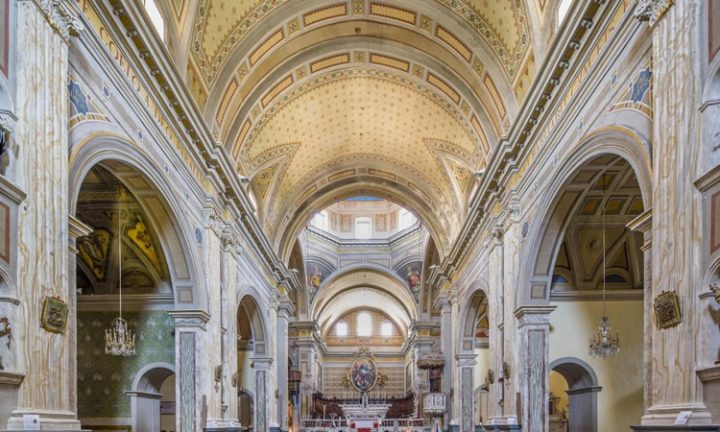 A little down the coast now, and you'll find the Church of Santa Maria Assunta in Positano. The church was originally part of a monastery though today it's instead a 'retired' space left for tourists to come to take a look, and for locals to use.
One major perk of the church is that it's incredibly old and brilliantly designed. You'll find gold trimmings here, a beautifully-crafted green and yellow dome atop the church as well as a tall bell tower out front.
The church has retained a lot of its original design, which is fantastic if you're a lover of architecture and religious spaces. We suggest taking a few photos here and really taking in the age and brilliance of the old church.
Once you've completed the church site, you'll be happy to know you're in Positano, so getting around is easy and finding food and drinks is also simple too!
Visit Positano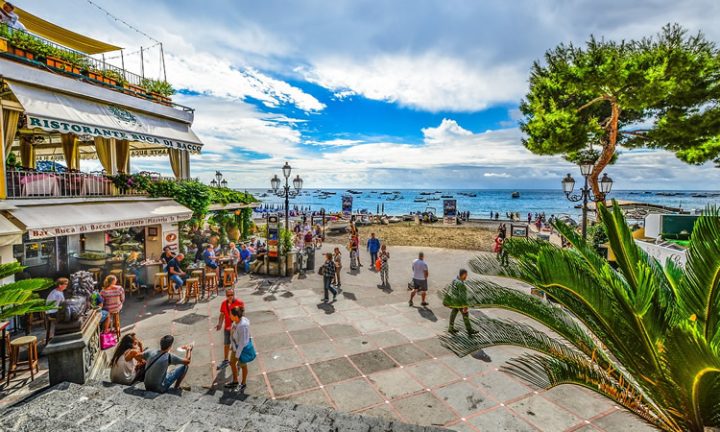 While we're still talking about Positano, we highly suggest you take a full day to explore. The seaside town is perched above the water and built into the hillside, giving it an unmatched view of the deep blue sea below. All of the buildings here are pastel-toned and indeed are a sight to behold, even when compared to the rest of Italy.
There are several attractions hidden away in Positano, including great beaches, hikes and much more, so, as we mentioned, you might need a full day here to see everything.
Both lovers of art and architecture will feel right at home in Positano as the town has a traditional Italian vibe that looks like an art piece in itself. Spend some time wandering the centre, buy a coffee or refreshing drink, and explore. Positano is without doubt a jewel of the Amalfi Coast, and there's always plenty to see and do.
Explore the Museum of Paper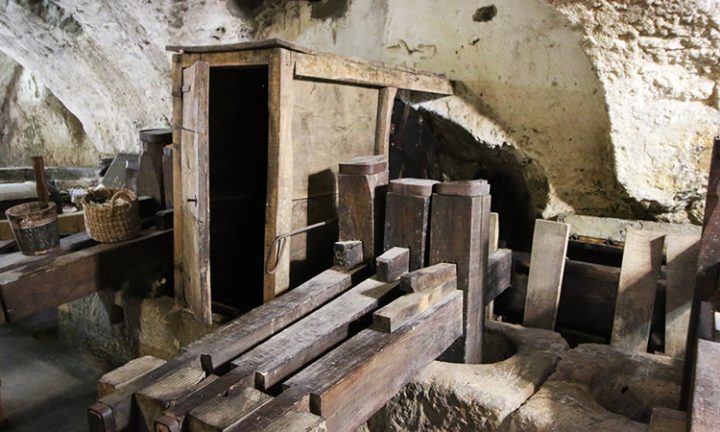 Unlike any traditional museum, the Museum of Paper in Amalfi is one of the most quaint and exotic you'll have ever seen. The museum sits inside a built-out cave and takes visitors through the entire development and production of paper.
Of course, the area is no longer used for paper production, though the insights it provides and the up close and personal look at the machinery used to create paper is undoubtedly enough.
For those looking to buy a few gifts for friends and family before your cruise, there's also a great gift shop on site where you'll find a few great trinkets that you certainly can't find anywhere else in the world.
The Garden of Minerva
When it's time to unwind and step out of the sun to take a breather from all of your exploring, we suggest you head to The Garden of Minerva! The botanical gardens are in Salerno and they look out over the sea, giving you a great photo opportunity.
As the gardens sit on a mountain, they have a terraced design, so you'll find yourself making your way down a small section of the hill as you explore the plants. The gardens are hundreds of years old and boast some rather rare plants and a few common ones like Italian grape vines and flowers.
The gardens aren't too large; however, we do suggest freeing up at least an hour to spend here as you may want to take a break and have a drink or snack, and there's no better place than The Garden of Minerva to do just that.
Pasticceria Andrea Pansa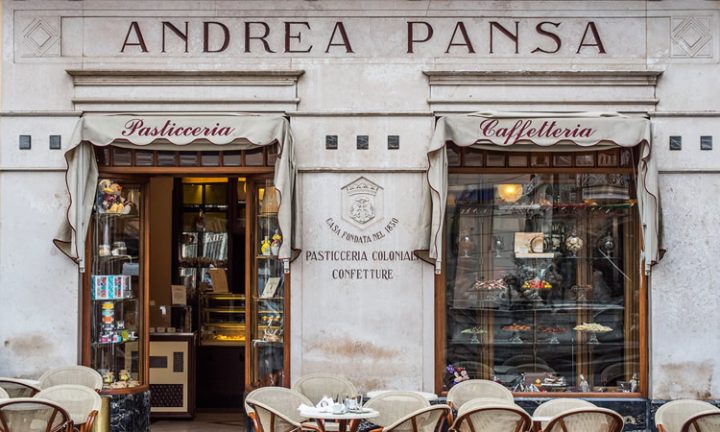 We'll cap off our list for those who have a sweet tooth! Be sure to hit Pasticceria Andrea Pansa, one of Amalfi's most famous dessert stores. Not only are the sweets here the best you'll have ever tasted, by far, but the dessert store is designed from marble and stone! It's a great architectural wonder for those who love their buildings, and there's a traditionally-styled Italian fountain just out the front door if you're looking for a photo.
Whether you're coming here in the morning, during lunch time, or after dinner, there's so much to choose from. Cornetti is on the breakfast menu, though there's also fresh Italian espresso and other less sugary nibbles here too.
We suggest making this bakery visit either at the start of your day or the end, as you won't want to fill yourself up and need a nap halfway through the day. The store opens at 7:30am and remains open until midnight every day of the week, so you'll have no trouble getting a delicious bite to eat.
The Amalfi Coast is one beautiful corner of Italy, and ther are certainly others worth exploring if you have time before or after your cruise. If you are flying out of the capital of Rome, a few days there is definitely a good option to take in they many historical sites that this ancient European city offers.
---
Author: Sophie Anderson
Post Date: 3rd July 2019
---
Categories: Ports
Tags: Amalfi Coast , Europe , Italy