Cruise Guide to Palma De Mallorca, Spain
Palma De Mallorca, or simply Palma, is the capital city of Spain and is the largest in the community of Mallorca Island of the Western Mediterranean. With beautiful cathedrals, landscapes, and even a castle, this area is a popular place to travel to.
Facts About Palma De Mallorca
Palma is one of the fastest-growing cities, mainly due to the increase in tourism to the area, and has gained popularity from its recent redevelopment of the urban area. In the 1960s, the city had just over 500,000 tourists. However, by the year 2001, there were over 19 million people flying into the city. Palme De Mallorca is also home to Europe's first circle castle, the Bellver Castle. With the indentation in the middle of the castle, an aerial photo shows its similarity to a donut.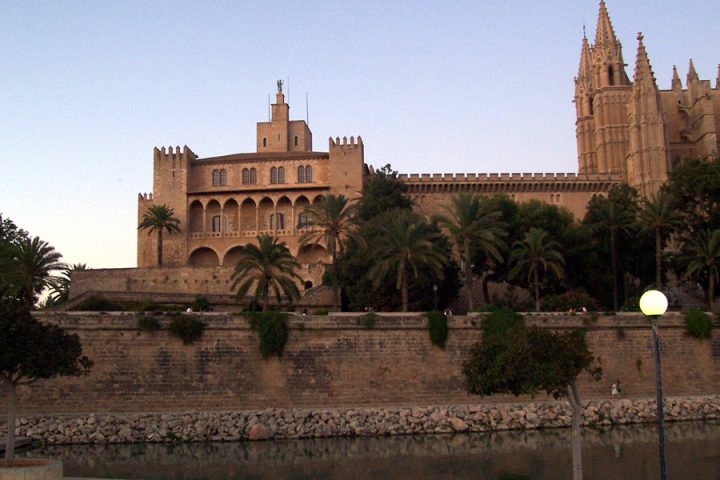 Cruise Lines that Visit Palma De Mallorca
With the city of Palma De Mallorca being a big draw for many tourists, many of the biggest cruise lines offer a chance to see it on one of their ships. Cruise lines like Regent Seven Seas Cruises, Celebrity Cruises, Oceania Cruises, Royal Caribbean, Norwegian Cruise Lines, Carnival Cruises, MSC Cruises, all visit hear during the year.  With all of these cruise lines docking in Estació Marítima, which is slightly west of the main city area, you can grab a ride in a bus or rented car to hit all the excursions on land or hitch a ride on the shuttles that will take you from the port to the Palma's downtown area.
Things to Do and to See in Palma De Mallorca
As a major destination for tourists and travelers, you can find a large variety of things to do in this city. From hitting the downtown area to going to the many historical landmarks, you will have plenty to do and see while you're there.
Caves of Drach Exploration
If you want to experience the untouched natural areas of Palma De Mallorca, then taking a Caves of Drach Exploration Tour will be right up your alley. With a private car that will drive you to the caves, a private tour guide that will teach you about the history, and a chance to see an underground lake known as the Lake of Martel. This tour is a total of six hours and includes drinks and refreshments on the drive there. It also includes a short boat trip on the Lake of Martel as an added bonus.
Bellver Castle Tour
Palma De Mallorca is home to the famous Bellver Castle and cruises offer tours of the grounds for interested tourists. With a private guide to drive you to the castle and offer a personal tour of the building, you can explore the amazing architecture and history of the first circle castle in Europe. This tour lasts for five hours with travel time and includes a bottle of water, lunch at a local eatery, and a private tour.
Horseback Riding On the Beaches of Palma
For those who want to stay in the sun and watch the waves, horseback riding on the beach may be the choice for you. With a car ride to the beach and lessons for those who haven't had any experience on a horse before, you can ride along the water and feel at one with nature. This excursion includes breakfast and lunch with the purchase of tickets and offers customizable options for whatever group size you will be apart of. There are even ponies for the smaller children to ride.
Family Food Tours
For the foodies in the family, you can get your fill of great local dishes and play games as you walk through the city. These tours incorporate local foods like traditional Pam amb oli – bread with olive oil – and also dessert tastings from different locations around the city. This tour will guide you through Palma while walking with your family and stopping for seven different food tastings along the way. The entire tour will take three hours and will feature entertainment stops in between tastings for extra fun.
Tapas and Wine Tours
For the 21 and over crowd, you can enjoy tasty tapas and alcoholic drinks for your private tour as you take a look at four different restaurants and bars in the city. This tour will walk you through Palma and stop at local grills for a taste of their finger foods and signature drinks. Whether you want wine or cocktails, you will have the chance to try four options throughout the day. This tour is three hours long and includes all food and drinks. All participants must be 21 or older, even if they won't be drinking.
Hilltop Panoramic View Tour
Taking in the sight of the entire city from the top of a hill with 360-degree views is one great way to see Palma in all its glory. With a private walking tour that will take up through hilly paths up to a viewing ground at the top of the hill, you can overlook all of the city from any angle and get photos that are worth more than a thousand words. The tour will about three hours and will include one drink of your choice, which can be alcoholic or non-alcoholic, and a private guide who will tell of the rich history of the area.
La Seu Cathedral Tour
Spain is full of many wonderfully crafted cathedrals and churches, but one of the most famous is the La Seu Cathedral in Palma. With a large and beautiful design, many tourists walk through the grounds and marvel at the architecture and grandeur. This tour will take you around to see a few local churches while offering local pastries to each guest of the walking tour and end with a grand finale trip to the cathedral.  This Gothic Roman-Catholic cathedral is best admired up close and with a private tour, you can hear all about the process of building this great cathedral and the history of the restoration.
---
Author: Sophie Anderson
Post Date: 28th January 2020
---
Categories: Ports
Tags: Europe , Mediterranean , Palma De Mallorca , Spain