Cruise Guide to Lifou, New Caledonia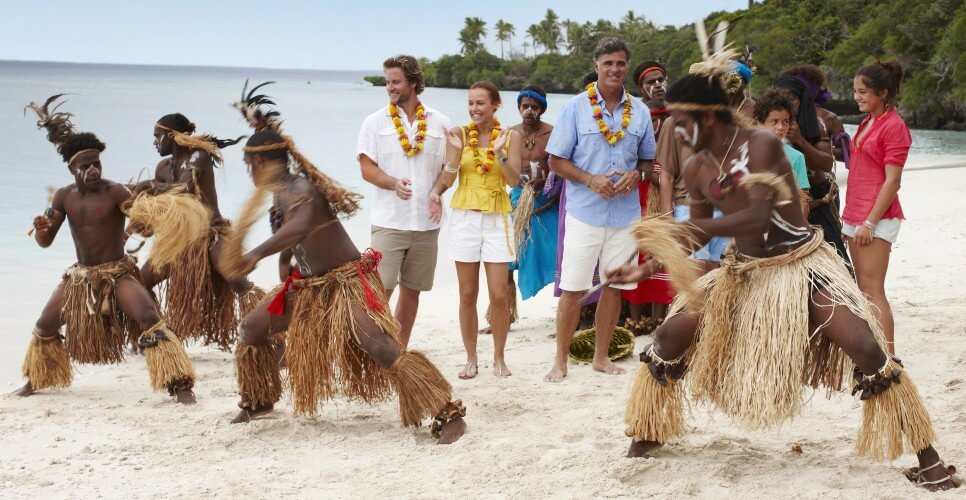 The South Pacific island of Lifou is a true paradise with powdery white sand beaches, crystal clear blue waters, coral reefs and dense tropical jungles. For snorkeling, diving and time enjoying nature at it's best, this island is perfect. The local culture is worth exploring too, with delicious food and endless smiling faces to remind you that sometimes the best things in life really are free.
Facts about Lifou
Off the coast of New Caledonia's mainland, Lifou is the largest and most populated of the Loyalty Islands. It was discovered by Frenchman Dumont d'Urville in 1857, and quickly became a hotspot for traders and whalers but was later annexed by the French as it wasn't thought to be worth colonizing. Tourism is the major industry here, and while the locals still learn French in school, the local language is Drehu. Similar to it's smaller neighbour Mare, Lifou was previously a coral atoll. However, unlike Mare, Lifou was part of a submerged volcano, that was lifted by tectonic forces over 2 million years ago. This history gave Lifou it's irregular shape and surprisingly flat landscape but also it's fertile soils and resultant dense jungles. Coral reefs surround the island and are rich in sea life including fish, lobsters and green turtles.
Cruises stopping at Lifou
There are a multitude of cruises that stop at Lifou, with this destination well and truly entrenched in the cruise itinerary. If you have some time to spare (>100 days), Princess Cruises has some fabulous, long round the world cruises departing from various ports in Europe that make their way to Lifou and a multitude of other great places. Or if you're coming from Australia there are a lot of options especially from Sydney and Brisbane, taking you through this South Pacific region over the course of 7-15 days.
Things to see and do at Lifou
Jokin cliffs
On the north end of the island are the Jokin cliffs. As dramatic as they are spectacular, these cliffs offer spectacular views out to sea and offer a glimpse at the formation of this beautiful island millions of years ago. From the viewpoint at the top of the cliffs you can see for kilometers along the island's jagged coastline, and even the burial chamber of past tribal leaders at the base of the cliffs. The descent to sea level is not easy, and you definitely need to wear sturdy shoes to protect from the sharp coral, but your efforts will be rewarded. Once at the bottom, the crystal clear water beckons and is bursting with life. Grab your snorkel and go exploring.
Luengoni beach
Luengoni beach is the jewel of Lifou. Powdery white sand stretches along the coast for miles and meets turquoise water that looks like you might have just stepped into a postcard. You can spend days here simply relaxing and working on your tan, but do make sure you explore a little as well. There is more than meets the eye here. You can explore on your own, or take a tour to get access to some hidden gems, like the sinkholes hidden and underwater caves.
Visit a vanilla plantation
As far back as 1860, the first vanilla plants found their way to Lifou, but it wasn't until the 1980s that this orchid began to be planted and harvested in earnest. Since then, vanilla has become the "brown gold" of the island and is both a source of pride and important source of income for locals. There are now over 120 producers of vanilla on the island, and the "House of Vanilla" in the Hnathalo tribe's site is a great place to visit to learn about the process up close and personal. If you're her in mid-October then you're in for a treat too, with the Vanilla Festival taking place in the south east of the island.
Jinek Bay Marine reserve
In the northwest of Lifou, is a coral reef and natural swimming pool teeming with life. This is the Jinek Bay Marine Reserve. Here, for a small donation, you can snorkel in the crystal clear water amongst over 2000 different varieties of colourful fish, swimming amongst an incredible array of coral. It might feel you are swimming in an aquarium, but this is all natural and you can rent snorkel gear and buy reef-friendly sunscreen there so you just need to turn up and get out there.
Explore the reefs
Lifou is surrounded by spectacular reefs, so if you enjoy snorkeling or diving, this is the perfect place for you. With an almost endless number of coral and fish species native to the area, you are sure to find yourself face to face with some of nature's most incredible creatures. If you're lucky, you might even spot a Manta Ray.
Eat like a local
You cannot come to Lifou without exploring just a little of the culture, and tasting the local specialty "bougna" is a great place to start. Made usually from fresh seafood including crab and yams, although sometimes made instead with chicken, it makes good use of sweet local fruits such as pawpaw and is cooked to perfection in banana leaves. This delicious melt-in-your-mouth dish will have you coming back for more.
Chill at the beach
You cannot come to Lifou and not spend a few solid days at the beach. These are some of the best beaches in the world with white sand and clear blue waters and palm trees lining the shore providing some much needed shade. Luecila and Luengoni beach are especially beautiful, but Jinek bay and Easo beach are also stunning. Swim, snorkel and snooze the day away here in this slice of heaven on earth and you may well never want to leave.
---
Author: Sophie Anderson
Post Date: 18th February 2020
---
Categories: Ports
Tags: Lifou , New Caledonia