Cruise guide to Florence, Italy
The Tuscan capital of Florence is a great Mediterranean cruise holiday destination if you're into culture, history, art and architecture. Believed to have been founded by Julius Caesar, Florence served as the capital of the Kingdom of Italy from 1865 to 1871. It is home to numerous museums and art galleries, and is noted for its Renaissance art and architecture, and is widely considered the birthplace of Renaissance. Also, the historic centre of Florence was declared a World Heritage Site by UNESCO in 1982. All in all, it's a more-than-worthy location to go on a cruise to.
Facts about Florence
There is a plethora of interesting facts that are associated with Florence, which comes as no surprise given the city's rich history and culture. Firstly, Florence is the birthplace of the gelato language. Also, world-famous artist Leonardo da Vinci was born in the lower valley of the Arno River in Florence. If you like gelato and are after the world's best, then you'll be happy to know that Italian gelato was invented in Florence in 1565. Here traditional Tuscan bread is made without salt, as it's widely considered unhealthy. We can also thank Florence for paved roads, as pavement was invented here as well. Finally, if you're a bit of a fashionista then knowing that this city ranks as one of the top 15 fashion capitals will be music to your ears. In fact, luxury brand Gucci was founded here in 1921.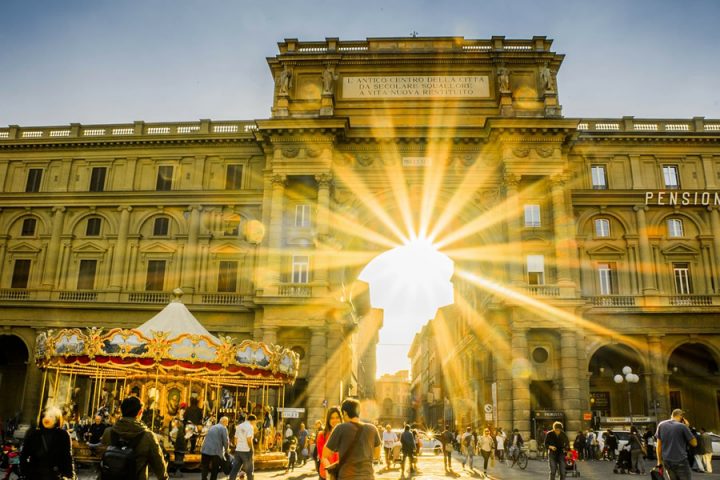 Cruises departing from Florence
Just about all major cruise operators include Florence as part of their Mediterranean cruise itinerary. Thus, you have plenty of options if you want to include Florence as part of your cruise holiday. The Arno River is too small to accommodate most cruise ships, so instead you will dock in the port of Livorno which is 1-1.5 hour drive to the centre of Florence. Your cruise ship will be able to arrange transfers from the ship into Florence town. Royal Caribbean International has cruises which include Florence as a stopover port, departing from Barcelona and Rome with cruise lenghts ranging from 7 to 12 nights. Princess cruises stopping over in Florence range from 7 to 21 nights in length and also depart from Barcelona and Rome. Azamara Club Cruises offers an 8-night itinerary departing from Barcelona that includes Florence. Finally, Celebrity Cruises voyages depart from Barcelona and Rome and range from 7 to 12 nights. If you are already in Italy and visiting the capital city of Rome, we suggest that you commence your Florence cruise from this port (Civitavecchia, Rome).
Things to see and do in Florence
Being one of Europe's historic and cultural capitals, Florence offers plenty of things to see and do if your cruise ship takes you here. We've detailed some of our favourite things to see and do below.
Duomo
The Cathedral of Santa Maria del Fiore is an unmissable attraction when you're visiting the city of Florence, both literally and figuratively. At 114m tall and 153m long, this is one of Italy's largest churches. The World Heritage Site and major tourist attraction was constructed between 1296 and 1436, and its world-famous dome was added during the 15th century. The exterior of Duomo is definitely imposing, and is covered in green, pink and white marble. By contrast the interior walls are stark and plain, though mosaic pavements and frescoes inside definitely represent some of the greatest highlights of Duomo. Giorgio Vasari's frescoes of the Last Judgment (1572-9) are definitely among the Cathedral's most significant artworks. Also, pay attention to a clock just above the cathedral entrance. Designed in 1443, it's still ticking away today.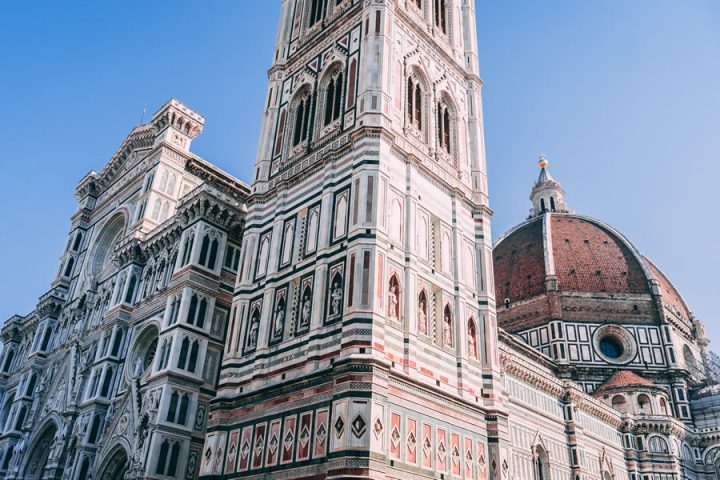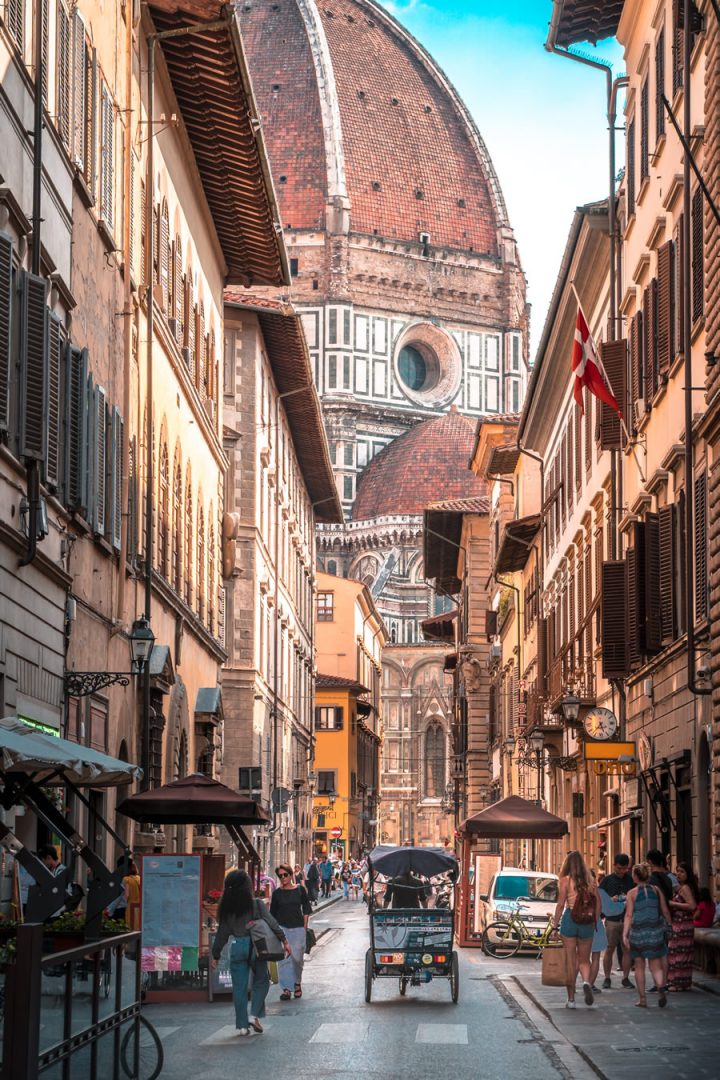 Galleria Degli Uffizi
One of the most prominent art museums in Florence, The Uffizi Gallery houses a priceless collection of works from the period of the Italian Renaissance. Opened in 1765 to the general public, Galleria Degli Uffizi is one of the most-visited tourist attractions in Florence. The former ruling family of Florence, the house of Medici had their art collections gifted to the city of Florence after they had died out. Here you may find many priceless works such as Santa Trinita Maestà (1290 – 1300), Duccio's Rucellai Madonna, Michelangelo's Doni Tondo (The Holy Family), and of course Leonardo da Vinci's The Annunciation and Adoration of the Magi.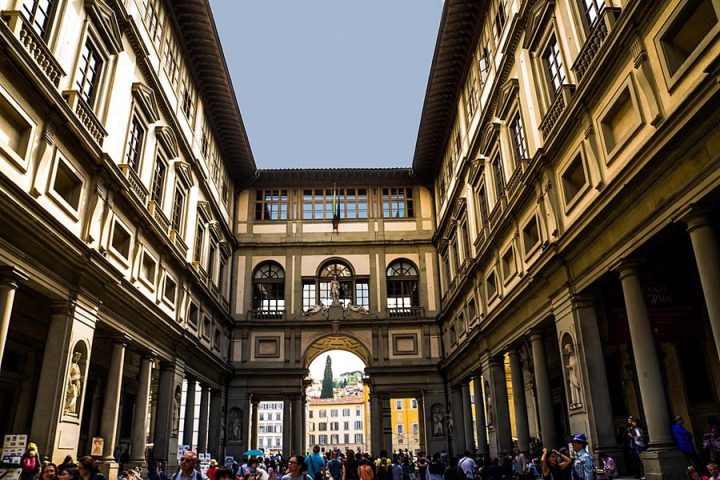 Basilica di Santa Maria Novella
Head to Florence's Basilica di Santa Maria Novella during your cruise holiday and visit one of the city's most significant churches. The first great basilica in the city, Santa Maria Novella was constructed from 1279 until 1420. The basilica is adorned by a large Gothic façade, and is the only church in Florence with its original façade still in place. The interior of Basilica di Santa Maria Novella was designed by Brunelleschi, who is the same architect that designed the great cupola of Duomo. Inside, you may find many important works, some of which include Masaccio's Trinity, Giotto's Crucifix, Filippino Lippi's The Strozzi Chapel and Brunelleschi's Crucifix.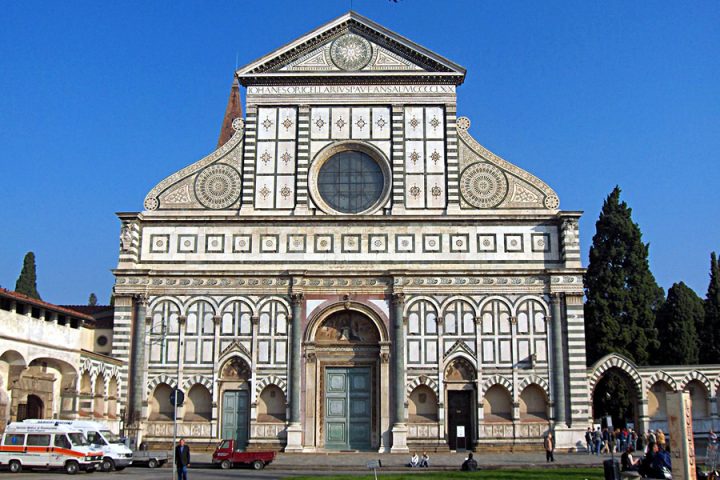 Palazzo Vecchio
If your cruise ship takes you past Florence then a guided tour of Palazzo Vecchio is one of the must-do activities. Built in 1299, the towering medieval castle is one of the major symbols of Florence,      and helps cement the city's status as the cradle of Renaissance. It was built atop the ruins of a 1st-century AD Roman theatre, which you can tour by purchasing a ticket on site. Here you will tour rooms such as Salone dei Cinquecento, the largest room in all of Florence, measuring 54m long by 22m wide and 17m high. Also, you will also find a copy of Michelangelo's David statue.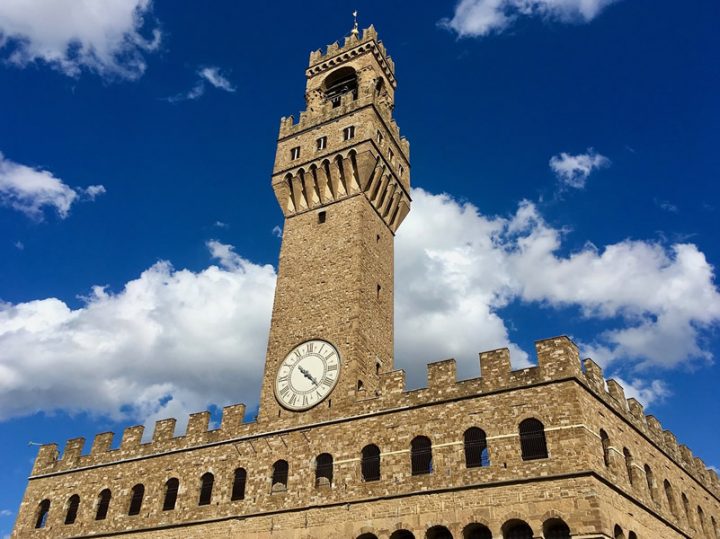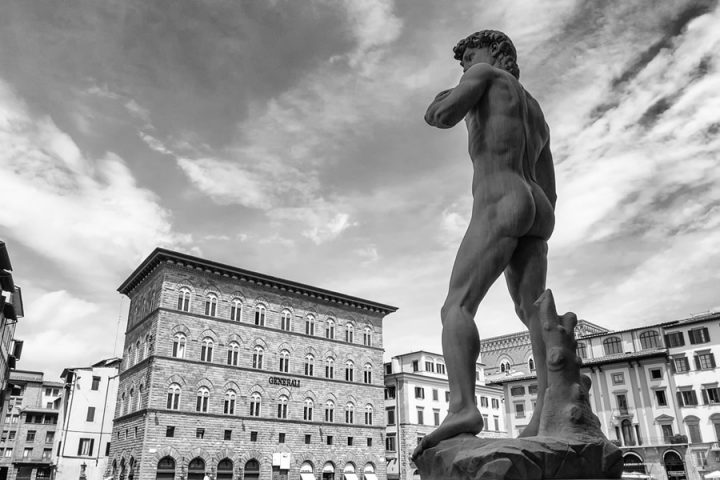 Ponte Vecchio
An everlasting symbol of Florence, Ponte Vecchio is the city's oldest bridge. Originally built around 996 BC, the bridge was swept away multiple times, resulting in several rebuilds, with the most recent being in 1345. Miraculously, this is the only bridge in Florence to have survived World War II, as the result of a direct order from Hitler. Namely, instead of destroying the bridge during their retreat, German soldiers demolished the buildings the were built atop. The medieval stone bridge spans 30m across Florence's famous Arno river and is famously lined with shops. Butchers initially occupied the bridge-top shops, though today you may find art dealers, jewellers and souvenir sellers here.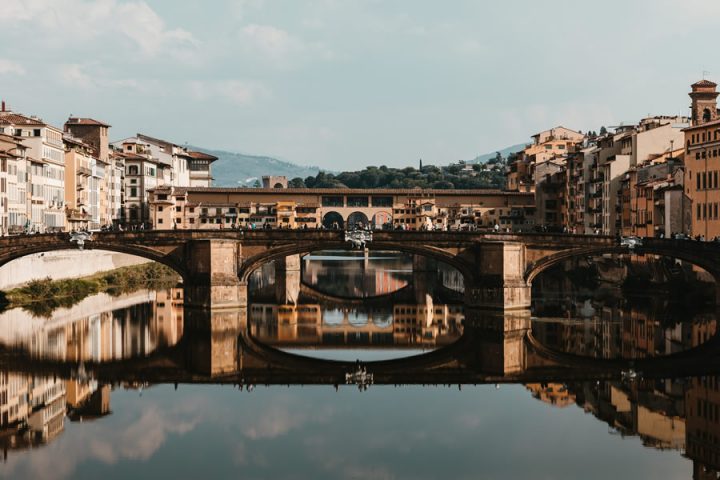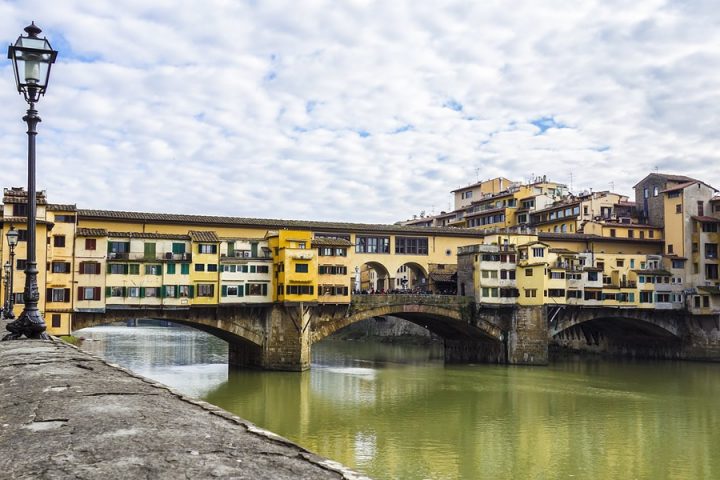 ---
Author: Sophie Anderson
Post Date: 29th December 2019
---
Categories: Ports
Tags: Europe , Florence , Italy , Mediterranean