Cruise Guide to Brisbane, Australia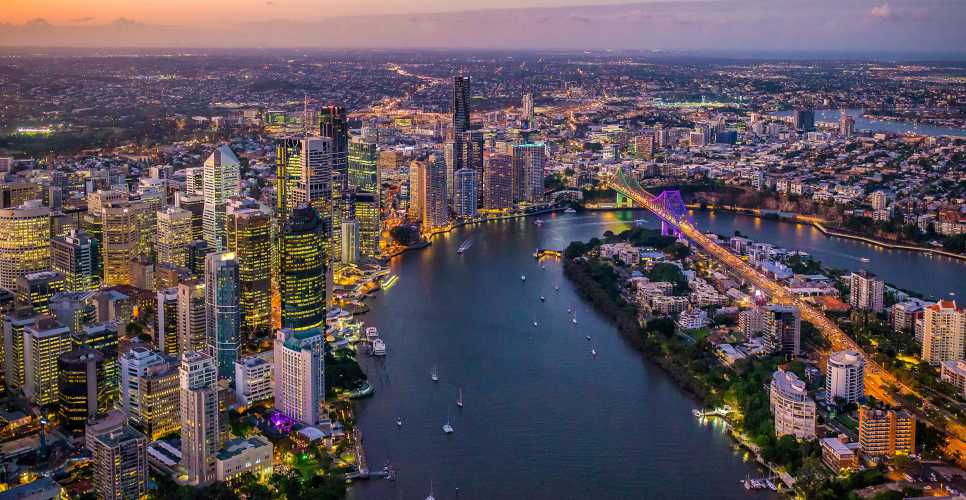 Brisbane is Australia's third-most populous city and also experiences more sunshine than most other major cities in the country. It's also conveniently located nearby to many beautiful tropical destinations both in Australia (Port Douglas, Airlie Beach, Yorkeys Knob, and Willis Island) , as well as nearby South Pacific islands of Fiji, Vanuatu, and New Caledonia. Though, there's plenty more to do here in Brisbane than just getting your daily dose of vitamin D. Known to the locals as Brizzie, The River City is a great holiday spot before or after one of the many cruises from Brisbane thanks to its climate, natural attractions, as well as its shopping and dining scenes. Overall, you definitely won't be disappointed if you make Brisbane part of your cruise travel plans.
Facts about Brisbane
Brisbane was the world's busiest submarine port during WWII. The City Hall in Brisbane is the largest of any city hall in all of Australia. Just off the coast of Brisbane, North Stradbroke Island and Moreton Island are the world's second and third-largest islands. One of Brisbane's premier sporting venues, Suncorp Stadium was previously a cemetery – the city's first, in fact. Lamingtons are one of Australia's most famous cakes, and the first ever lamington was made in Brisbane. One of the city's most-famous streets, Queen Street was previously a convict barracks. Finally, one of the city's most famous landmarks, Story Bridge was modelled off the Jacques Cartier Bridge in Montreal, Canada.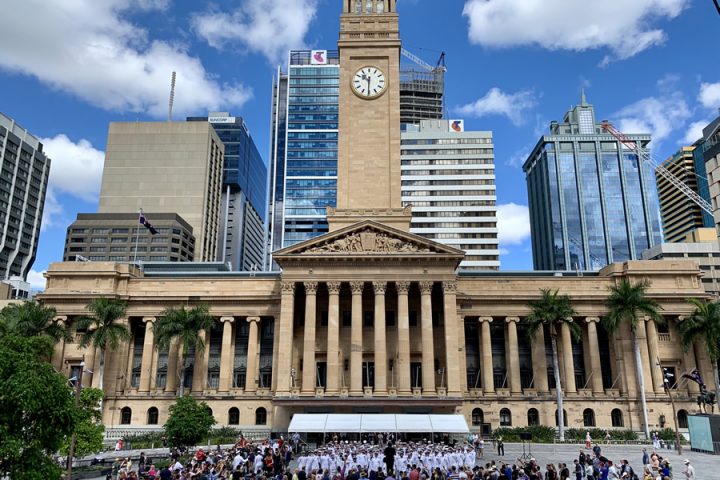 Brisbane Cruises
Major cruise operators such as P&O, Pacific Cruises, Cunard Cruises and Carnival Cruises all offer cruises from Brisbane. Just about all cruise liners dock at the Brisbane Cruise Terminal, and getting here is easy, with buses, trains and city ferries transporting passengers here from the city centre. If you need to get to the Cruise Terminal from the airport then head to the Brisbane Airport Train Station and catch a train toward the city centre. Then, get off at Fortitude Valley and walk to Wickham Street Stop 229 near Warner Street. From there, take bus 60 to the Teneriffe ferry terminal and take the Northshore Hamilton line to Bretts Wharf Ferry Terminal.
As a city, Brisbane provides you with a great opportunity to visit many other domestic and international destinations. Popular local cruise holiday destinations include Sydney, Melbourne, Airlie Beach and Cairns. If you feel like taking your holiday into international waters though, then there are plenty of cruises which visit Caledonia, New Zealand, China and Singapore. Cruise holiday lengths can be as little as two nights or well over a month, so there's plenty of choice. Overall, Brisbane definitely represents a great gateway city to travel a wide array of destinations.
Brisbane Tourist Attractions
As we mentioned, there are plenty of things to see and do in Australia's third-largest city during your cruise holiday. You can shop 'til you drop or dine at restaurants that have been visited by international superstars. The beaches are not to be missed
Lone Pine Koala Sanctuary
If you love Koalas then make sure you include the Lone Pine Koala Sanctuary as part of your cruise itinerary. Founded in 1927 and covering 18 hectares, this is the largest and oldest koala sanctuary in the world. It started off with two koalas, named Jack and Jill and is now home to over 80 different species of native Australian wildlife. Other animals that you may see when you visit the sanctuary include platypus, echidnas, kangaroos, wombats and Tasmanian devils. This is a great place to visit if you're travelling with kids, and there is also an on-site café where you can make a pit stop.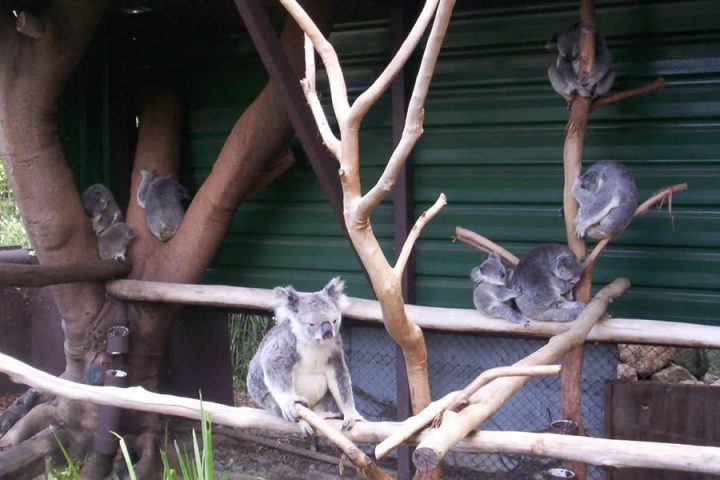 Southbank
The heart of Brisbane, Southbank is a must-see part of the city during your cruise holiday. It's a great place to relax and soak in some sun with plenty of places to go swimming, have a barbeque, and even go for a stroll along the walking trail. Southbank is also an arts and culture precinct and thus you will find world-class theatres and education institutions here as well. If you're after a bite then Southbank is the right place for that as well, with outdoor markets often offering food during the city's warmer months. One of the most beloved attraction at Southbank is the Nepalese pagoda, which was built by more than 160 Nepalese families over the course of two years.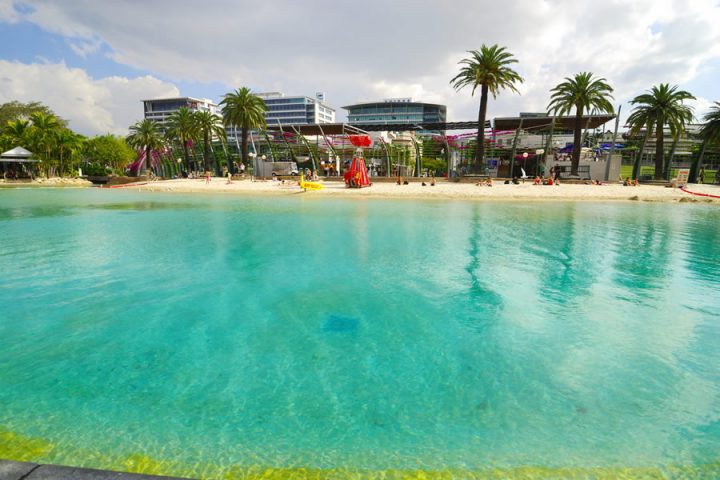 Story Bridge
One of the most prominent structures in Brisbane, Story Bridge is Australia's longest cantilever bridge with a total length of 777m. The city's most iconic structure, Story Bridge is often featured in many panoramic shots taken of the city of Brisbane. To full experience the bridge, sign up for one of the climbing tours, which run throughout various times of the day. If you really want to get your heart racing though, choose the 'Walk the Plank' and 'Cantilever Lean Out' tours, or you can even abseil from the bridge. If you're not up for climbing Story Bridge then taking pictures of it from afar is a completely viable option as well.
Restaurants in Brisbane
Brisbane is a great place to grab a bite whether you've got a taste for modern Aussie food or European classics. Brisbane's CBD and its inner-city suburbs provide you with plenty of options from high-end food to budget-friendly offerings. Below, we've included some restaurants you should definitely include as part of your Brisbane cruise holiday.
The Lab
If upscale dining and high tea are your thing then head to The Lab at The Treasury Hotel and Casino. The restaurant has been at the forefront of Brisbane's culinary scene since 2005. Here you may sink your teeth into sous chef Anita Green's modern-Australian food featuring premium locally sourced ingredients. Grab some eggs benedict for breakfast or try some world-class Australian Wagyu beef for lunch or dinner. If you're here on a Sunday then don't skip high tea, where you'll be able to indulge on sumptuous sandwiches and mouth-watering macaroons.
Malt Dining
Another great option to taste great modern-Australian cuisine is Malt Dining. The luxury-dining restaurant is spread across three levels headed by John Speranza. Only the freshest locally sourced ingredients and produce are used to deliver your luxury dining experience. A combination of exposed brick walls and wooden décor help create a warm and rustic feel. Some highlight items from the menu include the Brisbane Valley Quail, Kale, Grape Chickpea & Coconut Polenta, as well as the Lamb Ribs, Gai Ian, Tamari Glaze, Ghost Chilli, Preserved Lime Nut Crumb. If you're not quite into meat though, then you may choose from rice, noodles and dumplings as well.
Bars and Pubs in Brisbane
If you're cruise ship stops in Brisbane then you'll be pleased to know that there are definitely one or two watering holes that will quench your thirst. We've included some of our favourite bars and pubs below, both of which will deliver and authentic Brisbane experience.
Grand View Hotel
If you want to enjoy a drink with the locals then head to the Grand Hotel. The oldest licensed hotel in Brisbane, the GV provides you with stunning views over Moreton Bay. It boasts one of Brisbane's favourite beer gardens, offering a wide range of local and craft beers. If you prefer to dine outdoors then the GV is a great place for alfresco dining as well. This heritage listed hotel is spread across two levels. There are events and food specials held on a weekly basis, meaning you will be able to find classic Aussie pub grub deals when you visit.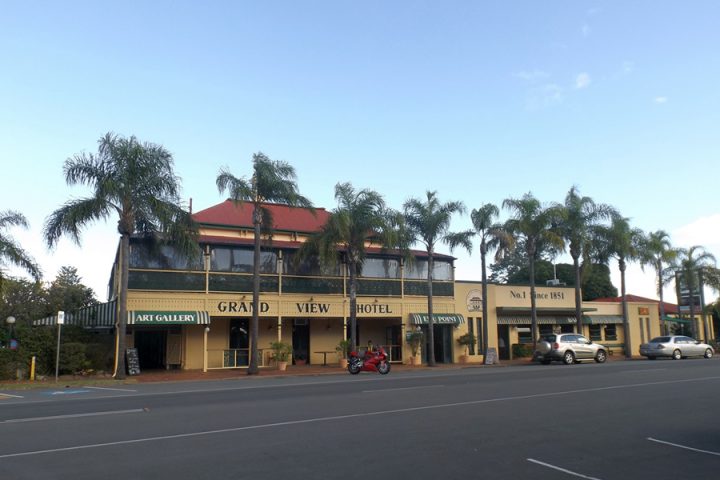 Verve
Though its's not the oldest overall, the Verve is Brisbane's oldest underground pub. In fact, it's a bit of a cult restaurant and has been visited by the likes of Guns 'n' Roses bass guitarist Duff McKagen, so it's not to be missed during your cruise holiday. This restaurant and cider bar is a New York-style basement bar is actually the only dedicated cider bar in the entire city. It also has one of the largest cider offering in Australia under one roof. From risotto and pasta to home-style pizza, the Verve is a great place to get an affordable meal. The restaurant is open from Tuesday until Saturday late into the night and making a reservation is highly recommended.
Shopping in Brisbane
You might not think of Brisbane one of Australia's premier shopping destinations, but The River City sure holds its own even compared to Sydney and Melbourne. If you can't find what you're looking for in Queen Street Mall then you're simply walking around with your eyes closed. On the other hand, if you're looking for something local and original then The Davies Park Market has you covered. Below, we've detailed some of our favourite spots, which we think you can't miss.
Brisbane Arcade
If you're looking to add some shopping to your cruise holiday in Australia's River City then add the Brisbane Arcade to your itinerary. The heritage listed shopping precinct was built between 1923 and 1924, and is one of the oldest shopping destinations in the entire city. The three-storey building is a recognisable for its Terrazzo flooring, balustrades and dado panelling. The elegant and expensive-looking design reflects what shoppers can expect to find when they enter the building, as award-winning fashion designers and premier jewellers call the arcade home. There's even a Tea Room located on the top floor, only adding to the grand look and feel.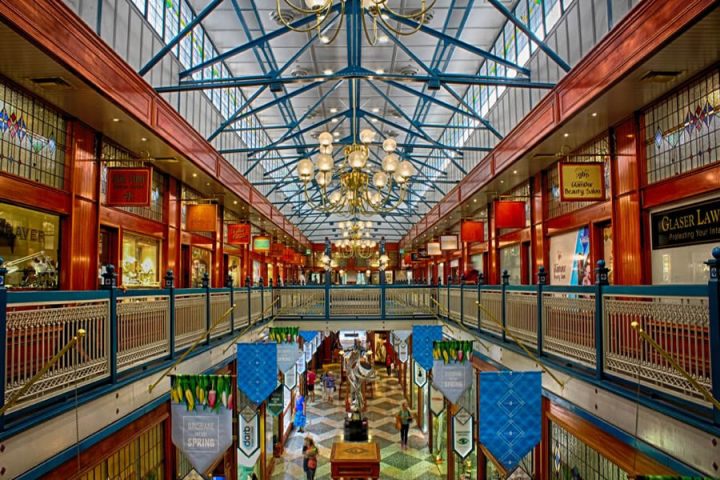 Queen Street Mall
Home to over 700 stores, Queen Street Mall is the premier shopping precinct in Brisbane. Along this open-air strip, you will find the Queens Plaza, Wintergarden, Myer Centre, Brisbane Arcade, Tattersall's Arcade and MacArthur Central. You'll find whatever you're looking to at Queen Street Mall, whether you're looking purchase luxury items from premium international brands or something more affordable. From luxury brands, expect to see brands such as Tiffany and Co, Burberry, Louis Vuitton and Bvlgari. You will also find more affordable brands such as UNIQLO here as well. There's much more to do than just shopping for designer clothes in the Queen Street Mall as well.  You can find anything from food to jewellery to impulse-buy items that you didn't even know you need.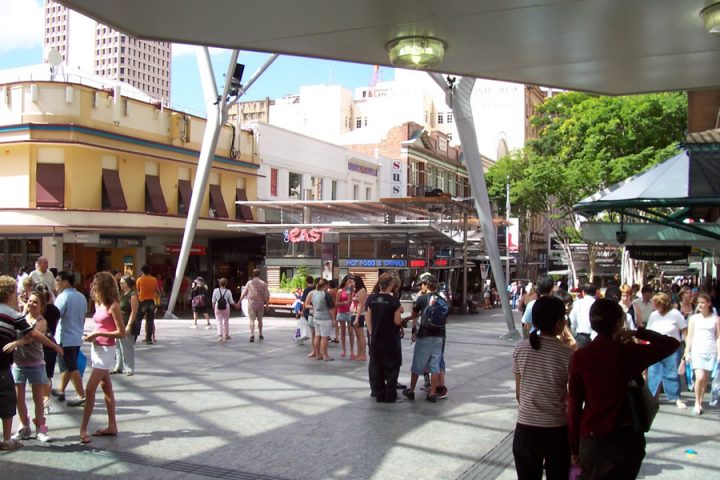 The Davies Park Market
If you're looking to add to an authentic local shopping experience during your cruise holiday in Brisbane then make sure you visit The Davies Park Market. This Saturday market is a great place to buy food, clothing, jewellery and arts and crafts made by real locals. Fresh fruit and vegetables here are sold directly by local growers, and you can also grab breakfast, lunch or dinner, which you can enjoy under the shade of the surrounding fig trees. Much of the jewellery and clothing is hand-made and is thus one-of-a-kind. Thus, The Davies Park Market is a great place to pick up some original designs you won't find anywhere else.
Beaches near Brisbane
Being one of Australia's northernmost major cities, Brisbane remains a swim-friendly destination for much longer throughout the year then say Sydney or Melbourne. In fact, many locals from those two cities commonly head up north to catch some sun during the cooler months of April and May. Below, we've included two beaches we think will provide you with a solid swimming experience when your cruise ship stops over.
Pandanus Beach
Backing onto Brisbane's oldest waterpark is Pandanus Beach. Despite facing the open ocean, this stretch of soft golden sand is home to calm waters thank to St Helena Island and Green Island which provide a barrier from the rough sea. The beach looks out toward Wynnum Jetty, and if swimming in the open ocean isn't your thing then you can head to the Wynnum Wadding Pool right next door. The seafront manmade pool is also located along the Wynnum Esplanade. As with any beach, there are plenty of restaurants and cafes that you may choose from nearby, making Pandanus Beach a great place to spend some time away from the bustling Brisbane CBD.
Suttons Beach
Head to Suttons Beach is you're after a refreshing dip during your cruise holiday in Brisbane. The patrolled beach is one of the more popular in Brisbane and provides visitors with stunning views of Moreton Island in the distance. The island helps calm the waves at Suttons Beach, meaning this is a great place to go if you're travelling with kids as well. There are BBQs, picnic shelters, toilets and other facilities on site, meaning you can enjoy an entire day here if that's what you feel like doing.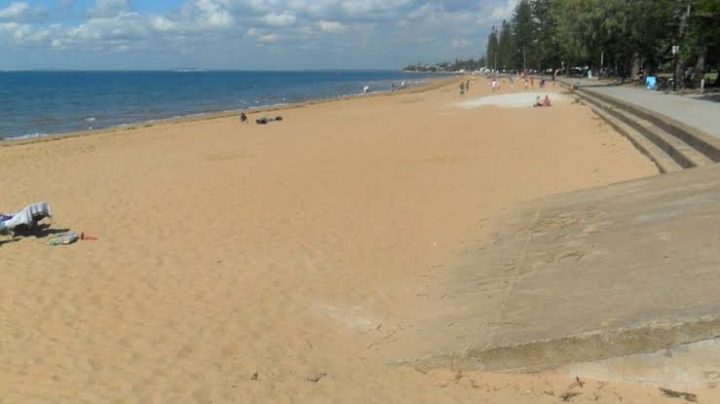 ---
Author: Sophie Anderson
Post Date: 22nd January 2020
---
Categories: Ports
Tags: Australia , Brisbane , Queensland