Celebrity Solstice - 21 May 2021
Cruise Line: Celebrity Cruises
Ship: Celebrity Solstice
Cruise Code: sl07a192
Departure Date: 21 May 2021
Departure Port: Seattle, Washington
Nights: 7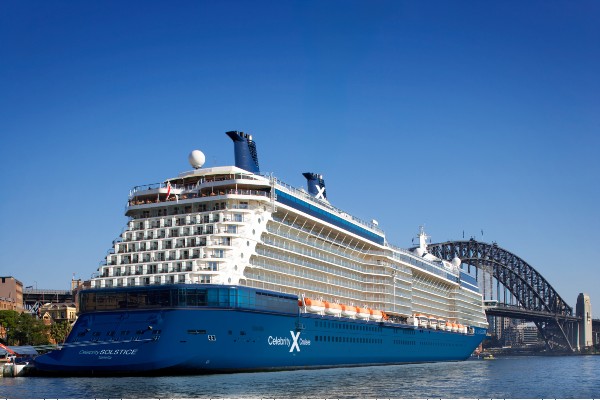 Cruise Line: Celebrity Cruises
Ship: Celebrity Solstice
Cruise Code: sl07a192
Departure Date: 21 May 2021
Departure Port: Seattle, Washington
Nights: 7
Cabin
Price (pp)
Interior

Interior

09

$ 3,421

Interior

10

$ 3,363

Interior

11

$ 3,267

Interior

12

$ 3,133

Oceanview

Oceanview

07

$ 4,246

Oceanview

08

$ 4,054

Balcony

Balcony

1A

$ 4,803

Balcony

1B

$ 4,688

Balcony

1C

$ 4,669

Balcony

2A

$ 4,707

Balcony

2B

$ 4,496

Balcony

2C

$ 4,400

Balcony

2D

$ 4,323

Balcony

A1

$ 5,648

Balcony

A2

$ 5,341

Balcony

C1

$ 5,590

Balcony

C2

$ 5,187

Balcony

C3

$ 4,899

Balcony

SV

$ 5,053

Suite

Suite

CS

$ 12,812

Suite

PS

$ 27,385

Suite

RS

$ 21,647

Suite

S1

$ 10,323

Suite

S2

$ 9,544

Cabin
Price (pp)
Interior

Interior

09

$ 1,914

Interior

10

$ 1,885

Interior

11

$ 1,836

Interior

12

$ 1,767

Oceanview

Oceanview

07

$ 2,336

Oceanview

08

$ 2,238

Balcony

Balcony

1A

$ 2,620

Balcony

1B

$ 2,561

Balcony

1C

$ 2,551

Balcony

2A

$ 2,571

Balcony

2B

$ 2,463

Balcony

2C

$ 2,414

Balcony

2D

$ 2,375

Balcony

A1

$ 3,039

Balcony

A2

$ 2,894

Balcony

C1

$ 3,010

Balcony

C2

$ 2,816

Balcony

C3

$ 2,669

Balcony

SV

$ 2,747

Suite

Suite

CS

$ 6,740

Suite

PS

$ 14,219

Suite

RS

$ 11,274

Suite

S1

$ 5,463

Suite

S2

$ 5,063

Cabin
Price (pp)
Interior

Interior

09

$ 1,896

Interior

10

$ 1,877

Interior

11

$ 1,844

Interior

12

$ 1,798

Oceanview

Oceanview

07

$ 2,364

Oceanview

08

$ 2,299

Balcony

Balcony

1A

$ 2,554

Balcony

1B

$ 2,515

Balcony

1C

$ 2,509

Balcony

2A

$ 2,522

Balcony

2B

$ 2,450

Balcony

2C

$ 2,417

Balcony

2D

$ 2,391

Balcony

A1

$ 3,053

Balcony

A2

$ 2,948

Balcony

C1

$ 3,010

Balcony

C2

$ 2,872

Balcony

C3

$ 2,774

Balcony

SV

$ 2,636

Suite

Suite

CS

$ 5,710

Suite

PS

$ 10,738

Suite

RS

$ 8,759

Suite

S1

$ 4,855

Suite

S2

$ 4,586

Cabin
Price (pp)
Interior

Interior

09

$ 1,847

Interior

10

$ 1,832

Interior

11

$ 1,808

Interior

12

$ 1,773

Oceanview

Oceanview

07

$ 2,346

Oceanview

08

$ 2,296

Balcony

Balcony

1A

$ 2,489

Balcony

1B

$ 2,459

Balcony

1C

$ 2,454

Balcony

2A

$ 2,464

Balcony

2B

$ 2,410

Balcony

2C

$ 2,385

Balcony

2D

$ 2,366

Balcony

A1

$ 2,988

Balcony

A2

$ 2,909

Balcony

C1

$ 2,938

Balcony

C2

$ 2,835

Balcony

C3

$ 2,761

Balcony

SV

$ 2,548

Suite

Suite

CS

$ 5,117

Suite

PS

$ 8,904

Suite

RS

$ 7,413

Suite

S1

$ 4,475

Suite

S2

$ 4,272
Inside Stateroom
Your escape at sea, Inside Staterooms offer ample living space, including a sitting area and a flat screen TV. Each inside stateroom on board Celebrity includes world-class amenities that all contribute to your modern luxury experience.
---
Ocean View Staterooms
Each ocean view stateroom on board Celebrity includes the following world-class amenities that all contribute to your modern luxury experience.
---
Veranda Staterooms
Ample indoor and outdoor space come together to create your private sanctuary at sea. Your personal veranda lets you greet the day, enjoy fresh sea breezes, and soak in breathtaking sunsets.
---
Concierge Class
Upgrade Your View with Special Services and Amenities. Little details make a world of difference, and now our meticulously thought out Concierge Class staterooms are even better. Featuring new services, amenities, and exclusive events, step inside and discover a space that is so much more than a room—it's an experience. As a Concierge Class guest, your team of dedicated professionals will take care of all your vacation needs. From Priority Check-In—when you're greeted by your Concierge—to the moment you head back home, we're there to assist you.
---
Aqua Class
Your escape at Sea. Luxurious spa elements infused into the stateroom experience, savor clean cuisine with priority seating at Blu restaurant, and escape to the Relaxation Room and Persian garden for stunning sea views. Relax with AquaSpa® treatments arranged by your personal spa concierge and feel rejuvenated with wellness classes such as meditation and yoga.
---
Suites
ALL SUITES. ALL EXCLUSIVE. The Retreat® isn't just a place. It isn't a service. It isn't an amenity. It's our entire suite experience, and it's all available to every suite guest. In fact, we're the only premium cruise line to offer every suite guest a personal butler, a private restaurant, and an exclusive lounge. Together with world-renowned designer Kelly Hoppen, MBE, we've created the ultimate in modern luxury experiences.
Passport Bar
Wind down with a cocktail and classical music. Relaxing and inviting, its position right off the grand foyer means this may be the first, but not the last, place you stop to sink into a chair and enjoy a cocktail. Enjoy classical music from our string quartet, or kick off your evening with jazz, Big Band, and other popular music.
---
Martini Bar & Crush
Totally cool, from the drinks to the ice-topped bar. Our talented bartenders put on a high-energy show preparing an intriguing menu of classic and contemporary martinis, served on an ice-topped bar. Sit back and relax, listening to up-tempo tunes and enjoying a collection of rare vodkas and a portfolio of fine caviars.
---
Cellar Masters
Immerse yourself in wine culture. Cellar Masters lets you try a bold collection of both familiar and unknown wines from around the world.
---
Cafe Al Bacio & Gelateria
Enjoy espresso or tea as you watch the world go by. Inspired by the ambiance of European cafés, muted sepia tones and pops of citrus yellow bring this space to life. Follow the irresistible aroma of Lavazza espresso, or choose from over a dozen premium hot teas from the innovative Tea Forté. Daily specialties include French pastries, gourmet coffees, and elegant desserts. Café al Bacio also features an authentic Gelateria with artisan flavors and fresh fruit sorbettos—in piccolo or grande, whatever you choose.
---
World Class Bar
Some drinks are worth waiting for… Welcome to our "fine drinking" experience, where the ritual of making cocktails is just as exciting as drinking them. Using the freshest ingredients and the finest spirits, our expert mixologists aim to satisfy the palates of both curious newcomers and connoisseurs alike.
---
Ensemble Lounge
The perfect start to your evening. Ensemble Lounge is the ideal setting for an aperitif en route to an extraordinary dining experience, or a digestif afterward. Live entertainment from world-class musicians and a "dressed for dinner" crowd make this elegant space a fantastic start or end to your evening
---
Pool & Mast Bar
Gourmet food poolside. Enjoy delicious eats while you relax in the sun.
---
Sunset Bar
Watch the world go by with a cocktail in hand. A relaxing evening ritual. Watch the sun set on the water as live pop and folk tunes play.
---
Quasar
Step back in time for an evening of dancing. Our retro-chic nightclub for the late-night crowd, Quasar features DJs spinning the best of today's dance and club favorites.
---
Sky Observation Lounge
A unique music venue with spectacular ocean views. The perfect daytime spot to gaze over the sea with a cocktail in hand. At night, the space comes alive with live music and dancing. Featuring twelve signature Zodiac cocktails based on your astrological sign, all prepared by flaring mixologists.
Main Restaurant
A grand stage for fine dining. This sophisticated restaurant with a wide range of globally-inspired dishes created by a Michelin-starred chef will provide the fine dining experience you love while you're on vacation. The airy Main Restaurant offers exquisite menu selections, which change nightly to give you a variety of classic and contemporary choices. And the service? Legendary.
---
Oceanview Cafe
Go on a voyage around the world. A market-style cafe that features select offerings inspired by the destinations we visit. With a menu influenced by multiple cultures, the Oceanview Cafe's cuisine takes diners on a voyage around the world. Stations available in the marketplace include made-to-order pasta, stir-fry, pizza, sushi, a full salad bar, and a variety of appetizer entrées and desserts. Oceanview Café This café's décor and offerings reflect that of an international marketplace. With a menu influenced by multiple cultures, the cuisine takes diners on a voyage around the world. Stations available in the marketplace include: made-to-order pasta, stir-fry, pizza, a full salad bar, and a variety of appetizer entrées and desserts. Open for breakfast, lunch, dinner and late night.
---
Spa Cafe
Renew and Refresh. Fresh, spa-inspired delights to nourish body and mind. Extend Your Spa Experience. A creative take on healthy cuisine, featuring an eclectic blend of offerings that are both flavorful and good for you.
---
Blue Restaurant
AquaClass® guests only. Clean, crisp flavors and inventive cuisine meet an extensive list of sustainable and biodynamic wines. Personalized service, inviting surroundings, and natural light are all part of the fresh and bold aesthetic of Blu. An Imaginative Experience. As an AquaClass® guest, you can enjoy own exclusive restaurant for breakfast and dinner. The spa-inspired cuisine at Blu is an imaginative way of preparing popular dishes without fussiness or pretense.
Tuscan Grille
Cuisine: Italian Steakhouse. An Italian ristorante and enoteca with a contemporary twist. Rustic elegance with a contemporary, minimalistic edge. Guests dining in Tuscan Grille will enjoy a lively, sophisticated atmosphere, serving iconic Italian dishes with a modern twist. Our fresh, original menu features handmade pasta, artisanal salumi, fish, butcher cut meats, and USDA Prime dry aged steaks. Our regional Italian wine menu features authentic Italian cocktails and beers.
---
Le Petit Chef
The world-renown artists of Skullmapping ™, presented by TableMation™ have reached a true pinnacle of their custom 3D table animation art form. This dining experience is beautifully choreographed with an elegant menu created by our Michelin Star Chef. Le Petit Chef ™ offered on Celebrity Cruises® is simply one of the most unique dining events in the world.
---
Murano
Luxury without pretense. Classic French dishes—with a contemporary twist—serve as the inspiration for Murano's menu. Enjoy nouveau cuisine with old-world charm, as we prepare some of our signature dishes tableside while you watch.
Sorry, there is currently no Kids Club data to display for this ship.
Sorry, there is currently no Features data to display for this ship.
Itinerary
| Date | Port | Arrive | Depart |
| --- | --- | --- | --- |
| 21 May 2021 | SEATTLE - WASHINGTON | | 16:00:00 |
| 22 May 2021 | AT SEA | | |
| 23 May 2021 | KETCHIKAN - ALASKA | 07:00:00 | 16:00:00 |
| 24 May 2021 | ENDICOTT ARM & DAWES GLACIER | 05:30:00 | 10:00:00 |
| 24 May 2021 | JUNEAU - ALASKA | 13:30:00 | 22:00:00 |
| 25 May 2021 | SKAGWAY - ALASKA | 07:00:00 | 18:00:00 |
| 25 May 2021 | ALASKA INSIDE PASSAGE | 18:30:00 | 22:30:00 |
| 26 May 2021 | AT SEA | | |
| 27 May 2021 | VICTORIA - BRITISH COLUMBIA | 17:30:00 | 23:59:00 |
| 28 May 2021 | SEATTLE - WASHINGTON | 06:00:00 | |