Carnival Splendor - 22 Mar 2020
Cruise Line: Carnival
Ship: Carnival Splendor
Cruise Code: d013
Departure Date: 22 Mar 2020
Departure Port: Sydney
Nights: 12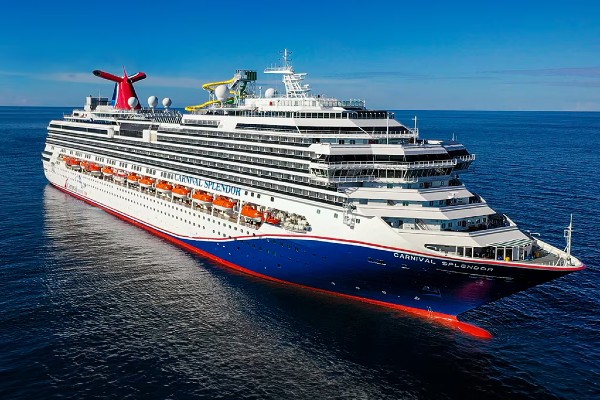 Cruise Line: Carnival
Ship: Carnival Splendor
Cruise Code: d013
Departure Date: 22 Mar 2020
Departure Port: Sydney
Nights: 12
Single Cabin
Price (pp)
Interior

Interior

IS

$ 2,114

Interior

1A

$ 2,152

Interior

4B

$ 2,415

Interior

4C

$ 2,434

Interior

4D

$ 2,453

Interior

4E

$ 2,471

Interior

4J

$ 2,547

Interior

4S

$ 2,810

Oceanview

Oceanview

6S

$ 3,787

Oceanview

65

$ 3,317

Oceanview

6B

$ 3,242

Oceanview

6A

$ 3,242

Oceanview

OV

$ 3,242

Balcony

Balcony

9C

$ 4,182

Balcony

BL

$ 3,618

Balcony

8A

$ 3,844

Balcony

8B

$ 3,900

Balcony

8C

$ 3,957

Balcony

8D

$ 4,032

Balcony

8S

$ 4,145

Suite

Suite

GS

$ 5,752

Suite

OS

$ 5,470

Twin Cabin
Price (pp)
Interior

Interior

IS

$ 1,063

Interior

1A

$ 1,082

Interior

4B

$ 1,214

Interior

4C

$ 1,223

Interior

4D

$ 1,232

Interior

4E

$ 1,242

Interior

4J

$ 1,279

Interior

4S

$ 1,411

Oceanview

Oceanview

6B

$ 1,627

Oceanview

6A

$ 1,627

Oceanview

OV

$ 1,627

Balcony

Balcony

BL

$ 1,815

Balcony

8A

$ 1,928

Balcony

8B

$ 1,956

Balcony

8C

$ 1,984

Balcony

8D

$ 2,022

Balcony

8S

$ 2,078

Triple Cabin
Price (pp)
Interior

Interior

IS

$ 1,098

Interior

4B

$ 1,123

Interior

4C

$ 1,129

Interior

4D

$ 1,135

Interior

4E

$ 1,142

Oceanview

Oceanview

6S

$ 1,452

Oceanview

6B

$ 1,270

Oceanview

6A

$ 1,270

Oceanview

OV

$ 1,248

Balcony

Balcony

9C

$ 1,599

Balcony

BL

$ 1,373

Balcony

8A

$ 1,486

Balcony

8B

$ 1,505

Balcony

8C

$ 1,524

Balcony

8D

$ 1,549

Suite

Suite

GS

$ 2,085

Suite

OS

$ 1,991

Quad Cabin
Price (pp)
Interior

Interior

45

$ 969

Interior

44

$ 950

Interior

IS

$ 1,115

Interior

4D

$ 1,087

Interior

4E

$ 1,091

Oceanview

Oceanview

6S

$ 1,228

Oceanview

65

$ 1,343

Oceanview

64

$ 1,324

Oceanview

OV

$ 1,059

Balcony

Balcony

86

$ 1,449

Balcony

85

$ 1,425

Balcony

84

$ 1,411

Balcony

BL

$ 1,153

Balcony

8D

$ 1,312

Balcony

8S

$ 1,341

Suite

Suite

GS

$ 1,686
The following are the cabin types available on the Carnival Splendor:
---
Interior
Our most affordable way to experience all the excitement, without cutting corners on comfort. Full private bathroom, 24-hour room service (at a fee) — plus linens you can feel at home in — make this the perfect spot to curl up after a long day's fun.
---
Oceanview
These comfy rooms with a view let you sail along to beautiful destinations while gazing at the sort of vistas you simply won't find anywhere on land.
---
Balcony
Any time you're in your room, you're steps away from your own personal outdoor oasis… designed for maximum sea breeze and the most stunning views.
---
Suite
Get all the comforts of home and then some, with absolutely none of the hassles. Since your suite gives you VIP status, you're the priority when it comes to getting on and off the ship. Plus, you'll receive a ton of exclusive amenities making this the ultimate way to cruise. Get comfy… stretch out, put your feet up, or just spend time on your balcony — you've got one of our most spacious rooms.
The following bars are available on the Carnival Splendor cruise ship:
---
Sports Bar
Just because you're on a holiday doesn't mean you should miss the action back home! Whether you're here to barrack for your home team or you just want to check in on the scores, you'll love the energy-filled atmosphere of the sports bar. Order your go-to drink and just kick back as you watch your favourite sports come to life on our big flat-screen TVs.
---
Piano Bar
Play it again, Sam. Or Diana. Or whatever your name is. Because this is the bar where you call the shots – and the songs. Pull up a seat, order your favourite cocktail, and let your friendly piano player know which songs you'd like to hear. Then join the sing-along for a hand-clapping, foot-tapping, finger-snapping good time. Don't feel like flexing your vocal cords? No worries. Shy songbirds are welcome here, too. And since it's open from early evening to late at night, it's the perfect spot for a before-dinner drink or singing 'til the wee hours of the evening.
---
RedFrog Pub
Get into an island state of mind before you even set foot on one. RedFrog Pub is our laid-back, no-worries, oh-so-lively Caribbean Island-inspired pub. Sample tropical fare, dominate at the foosball table, enjoy some sweet tunes and sip our tasty signature private-label craft beer; Thirsty Frog Summer Ale. So kick back and feel the island vibe come to life. You'll be a local here before you know it.
---
NightClub
Get up and get down at the most happening club in the Pacific. Our DJs are spinning today's hottest hits and yesterday's golden oldies, guaranteed to get you out of your seat and tapping your feet. (Hey, that rhymed!) Whether you're doing the robot or the worm or just swaying to the music, you'll want to dance 'til the sun rises. Or at least 'til last call. Oh yeah... our themed parties are pretty fun too.
---
Live Music
Want to rock 'n' roll every night and every day? Well, you've come to the right ship. We bring some of the best performers on land out to sea for an ambiance that can't be beat. From happy-go-lucky island rock at RedFrog Pub to sing-alongs at the piano bar to let's-get-this-party-started jams on Lido deck, chances are you'll find a live performance on board that gets your hands clapping and toes tapping.
---
Karaoke
Grab the mic and channel your inner rock king, pop princess or disco queen, when you join in the karaoke fun aboard a Carnival cruise. Whichever karaoke experience you choose, choose from hundreds of titles that span a wide variety of genres, from pop hits, country and rock classics.
The following are the complimentary (i.e. FREE) dining options available on the Carnival Splendor:
---
Pizza Pirate
Tossing dough is an age-old art passed down the generations. Lucky for you, someone passed us the secret to the perfect pizza. While aboard, this is the place that will shiver your timbers and warm you to the bone, 24 hours a day, with a Margherita, Funghi, Hawaiian, Pepperoni or Quattro Formaggi pizza. Savvy? Then it's the pirate's life for you!
---
Breakfast Grill
If the smell of breakfast cooking doesn't help open your eyes, our fresh coffee will surely do the trick. Drag yourself out of bed and over to the Lido Restaurant where you'll enjoy made-to-order omelettes, help yourself to fluffy stacks of pancakes or indulge in some sizzling sausage or bacon for a delicious and energising way to start the day.
---
The Carnival Deli
Looking for a tasty sandwich or wrap for lunch? Drop by the Carnival Deli. Enjoy hot pastrami on rye, or how about roast turkey breast on a country roll? Our sandwiches and wraps are always hand-carved and served fresh with coleslaw or relish. Satisfy your craving for a great sandwich and make sure you don't forget the pickle on the side.
---
Dining Room Breakfast
The dining room is the perfect place for breakfast on any port day, you'll be rewarded with a delicious first meal. Our chefs will happily whip up something, just the way you like it. Choose from a wide variety of selections like scrambled eggs, fluffy pancakes, crispy bacon and sausage, or even fresh fruit and oatmeal. Join us early before you head off to explore the day's port.
---
Dining Room
The Carnival Cruise Empire dining room offers an elegant and relaxing setting in which to enjoy a full three course menu! It's an experience that's filling, but never stuffy — you're just as likely to catch waiters table-dancing as you are to order dessert. Dessert's included — along with the rest of your meal, by the way — in your fare. But don't skip straight to dessert, because the main course is the main attraction; drop in daily and enjoy a rotating menu of delectable favourites, including steak, seafood and prime rib.
---
Good Eats
When it comes to eating well for dinner, the name says it all. Good Eats is just the spot to enjoy a casual self-serve dinner aboard. Enjoy strip steak, pork chops served with rice or roasted potatoes, a carving station and so much more. There's something different on the menu every night, so you can come back and try something new each night of your cruise.
---
Kids Menu
Our kids' menus, available at most onboard dining venues, feature foods that are delicious enough — and fun enough — to satisfy even the pickiest of eaters. We've got all the familiar options they love at home, like spaghetti and meatballs, chicken nuggets, hot dogs, mac-n-cheese, peanut butter and jam sandwiches and — yes mum — fresh fruit and veggies. They should save room for dessert, though, because with sweet stuff like banana splits and chocolate brownies, your young'uns are going to be pretty excited. There's even 24-hour pizza and ice cream… but these are subject to bed-time, of course.
---
Lido Restuarant
Featuring a variety of casual dining options like Chef's Choice, Salad Bar, Carnival Deli and more, the Lido Restaurant has something — or more likely, at least a few 'somethings' — to satisfy your craving. With plenty of indoor and outdoor seating and food options for everyone, you can enjoy your personal favourites, while dining in the company of family and friends. It's also where you can find our Pizza Pirate pizza station and Swirls ice cream spots… both open 24 hours a day, which ought to be enough for anybody.
---
Off The Grill
Join our masters of the grill as they practice their craft right in front of you, serving up outdoor favourites like hamburgers, hot dogs and grilled chicken. Smother them with sautéed onions and mushrooms, or go traditional with some tomato sauce and mustard. Either way, Off the Grill is the perfect place to enjoy these classics by the pool.
---
Salad Bar
Fresh, tasty, fast and colourful — all the qualities that make the Salad Bar a great place for lunch or dinner. Stock up on your nutrients for the day and top them off with dressings galore at this self-serve veggie-lover's paradise. Just because it's good for you doesn't mean building your own can't be fun. Mix in some grilled chicken, fresh tuna or stick to the basics with this quick and healthy option.
---
Seaday Brunch
Forget what "they" say — the most important meal of the day is brunch. Slumberers can sleep in and still enjoy breakfast favourites, while early-risers get a head-start on lunch. And Seaday Brunch brings everybody's favourite mid-morning meal to your Carnival cruise, and does it right. You'll enjoy special french toast, loaded mac-n-cheese… and yes, more ways to cook eggs than we even thought was possible. Chow down and fuel up — you've got lots of exploring to do, across the ship, for the rest of the day.
---
Sweet Spot
There's nothing sweeter than a visit to Sweet Spot for our specially-made marble chocolate cheesecake, lemon cream pies, cherry crumble squares and more. There's always something for everyone, including healthier options like fresh fruit medleys. Save room for dessert — or skip the meal altogether — and make sure you satisfy your sweet tooth with this mix of desserts that really hit the spot.
---
Swirls
Got room for dessert? Sure you do! Swirls ice cream lets you enjoy the sweeter side of brain freeze with a treat that'll have you smiling from ear to ear. Choose from chocolate, vanilla or strawberry… or make your own mix swirled as high as you can balance it. Open on Lido deck 24/7, our soft-serve ice cream and frozen yoghurt is a great way to beat the heat all day, or the perfect night-time treat after a long evening of fun.
The following are the speciality dining options available on the Carnival Splendor. They all cost an additional fee.
---
Green Eggs and Ham Breakfast
Pack your imagination, but don't forget your appetite as the whole family embarks on a breakfast that's part meal, and part journey into the deliciously whimsical world of Dr. Seuss. Sit down to a truly fantastical feast at Green Eggs and Ham Breakfast with The Cat in the Hat and Friends. Bright colors and patterns decorate your table, which features fun and unique menus. Feast! Feast! Feast! Lose yourself exploring a delicious menu where you'll find "Green Eggs and Ham," brightly colored fruit, gravity-defying pancake stacks, funky french toast, "Moose Juice" 'n' "Goose Juice"… and much more. (Classic breakfast offerings are available as well.) Breakfast is also the perfect time to meet and greet the stars of Dr. Seuss — characters will be around for special photo opportunities and fun interactions, making this a meal to remember.
Prices: $10 for Adults, $10 for Children.
---
Bonsai Sushi
Check out Bonsai Sushi, the next generation onboard seafood-and-soy-sauce spot. Dine amidst expertly-pruned bonsai trees while enjoying sit-down service and an affordable menu of delectable catches… plus soups, sides, sakés and desserts. So the next time you're taking an onboard stroll, stop at Bonsai Sushi for a roll, a box or maybe a whole ship — it feeds two, and keeps them satisfied.
---
The Chef's Table
Treat your taste buds to the experience of a lifetime, culminating in a sumptuous multicourse dinner hosted by one of our master chefs. Your VIP experience starts with cocktails and hors d'oeuvres for a select group of 12, followed by a tour to see the galley in operation. The evening concludes with a mind-blowing full-service dinner of amazing appetisers, entrees and desserts not found on our regular dining menus. Tip: Reserve early because this once-in-a-lifetime experience has limited seating. Reservations can be made at the ship's Nouveau Restaurant.
---
Coffee Bar
Why not treat yourself to a latté, macchiato, cappuccino or whichever coffee takes your fancy, as our onboard baristas, professionally trained in Aussie coffee brewing techniques, serve up your favourites. Selections of teas are also available; savour the aroma and have a delicious homemade pastry on the side or, for an even sweeter option, stop by for a milkshake, slice of cake or biscuit.
---
24 Hour Room Service
So you're in the mood for some good eats, but you'd rather stay in your comfy, cozy stateroom? Really, who could blame you? Simply pick up the phone and order something from our tasty room service menu. And since you get hungry when you get hungry, room service is available any time of the day (or night) and delivered right to your door.
---
Nouveau Restaurant
Enjoy the finest aged beef, cut, weighed and char-grilled to your exact specifications. In addition to mouth-watering steaks, a variety of other delectable main courses — like double-cut lamb chops, lobster tail and grilled fish fillet — are available. The intimate atmosphere and extensive menu includes 17 gourmet entrées, salads, soups and side dishes. These do more than delight; they complement the season's freshest produce and the best wine lists, and are handpicked by our chefs to perfectly match the wide-ranging cuisine.
Prices: $55 for Adults, $15 for Children Under 12.
---
Nouveau Selections
Whoever said you can't always get what you want certainly never said it on a Carnival cruise. Odds are that something from our Nouveau menu sounds good — filet mignon, New York Strip, lobster or surf & turf — and you know what? Now you can get these signature dishes on your plate anytime you're enjoying dinner in our lively main dining room. Whether you're with friends, have the kids in tow or are just in the mood for something different in a familiar setting, you'll find great options on your dining room menu.
Prices: $30 for Adults, $30 for Children.
The following are the Kids Club options available on the Carnival Splendor cruise ship. There are 3 age groups: Camp Ocean for children aged 2-11 years, Circle "C" for children aged 12-14 years, and Club O2 for teenagers aged 15-17 years.
---
Camp Ocean
Age Range: 2-11 years
When families cruise Carnival, even the smallest fish in the pond have a big, awesome time. Okay, so it's actually way more than just a pond — it's Camp Ocean. At Camp Ocean, 2–11 year-olds stay busy, keep active and have fun as they enjoy all new ocean-themed activities and entertainment made for kids. We put campers into supervised, age-based groups and give each a cool marine-life label that's sure to raise the sails on camaraderie at sea.
Penguins: The littlest little ones — ages 2 to 5 —join the Penguin colony and engage in activities like Musical Icebergs and Ocean Bingo… even learning a thing or two about buoyancy!
Stingrays: The little-biggers, 6 to 8, are the way-cool Stingrays, who might be found enjoying Pirate Game Night, making sea salt art or even designing their own aquarium.
Sharks: The big fish are the Sharks — ages 9 to 11 — who really sink their teeth into playing Marine Life Trivia, creating a giant ocean mural, and scoring big with sea-themed volleyball or soccer. Our counselors, each with education or childcare experience, are there to make sure everyone in these small groups has an amazing time.
---
Circle "C"
Age Range: 12-14 years
What does the "C" in Circle "C" stand for? Well, "chill," "connect" and "cool," just to name a few. It's where young teens ages 12 to 14 go to hang out, meet new friends, and enjoy some pretty awesome activities like dance parties, games, outdoor movies and more, in the special Circle "C" area or around the ship. It's all supervised by friendly and fun-loving counsellors who want your young teens to have the best holiday ever.
---
Club O2
Age Range: 15-17 years
Your parents deserve a nice holiday… but then again, so do you. So let's let them go do their thing while you do yours. Where to? Club O2. Hang out and do stuff like watch movies, listen to music from this decade, play sports and video games, join karaoke jam sessions… maybe even have a pool party or two, all with other high schoolers aged 15 to 17. We even set up teens-only shore excursions, so you can enjoy the sights at our beautiful ports with your new friends.
---
Night Owls
Note: Additional Charge.
Think back — as a kid, was there anything better than staying up late? Even as an adult, nighttime is funtime, especially with all there is to do on your Carnival cruise. We have the perfect thing for you AND for your kids, and it's called "Night Owls"! For a nominal fee, kids 11 and under can fun it up with others their age until as late as 12 a.m. They'll enjoy music, activities, games and giveaways at supervised parties while you enjoy… whatever it is you do at night these days, all without a worry.
---
Seuss-a-palooza Parade
Stand up and cheer for the Seuss-a-palooza Parade, now streaming down the deck of select Carnival ships. Join characters you love — and a flock of your fellow fun followers — as you become part of the spirited procession of the biggest (and smallest) fans on this side of shore. This parade spreads the fun, so go spread the news… and to think that you'll do it on your Carnival cruise!
---
Arts and Crafts
To kids, arts and crafts is a fun way to spend an afternoon. To a parent, on the other hand, it's something much more. From their earliest finger-paintings, to macaroni art and beyond, the stuff they bring home is more than just stuff — it's art — and every last scrap of it is nothing short of precious, the work of a master. Your Carnival cruise presents plenty of opportunities for your budding Picassos to express themselves, from paintings that will take pride of place on your fridge, to less traditional media like sand art, hand-decorated t-shirts, pirate treasures and beyond. You know, future living-room-museum pieces.
---
Build-A-Bear Workshop at Sea
Note: Additional Charge.
A Carnival cruise gives kids plenty of chances to make new friends… but never before quite like this. When kids visit the Build-A-Bear Workshop at Sea, they use their small hands and big creativity to bring a new stuffed friend to life. They can customise theirs from head to toe by choosing the clothing and accessories, and even give their new friend a voice and message of its own by integrating a customisable voice chip. The cuddly bears are just the beginning — these stuffed friends come in all shapes, like a monkey, sea turtle, dog, bunny… and the cutest shark imaginable. There's even a bear with a special Carnival-exclusive design!
---
Warehouse Arcade
Note: Additional Charge.
If you love to play video games, you're in luck. Our video arcade boasts a huge array of games, and is open to players of all ages, all night and all day. So get some tokens from the vending machine and let the fun times begin. Challenge your friends to a game, or just see if you can beat the top score. After all, with the video arcade open 24 hours and an entire cruise ahead of you, you'll have plenty of time to try.
The following are the activities you can enjoy on the Carnival Splendor cruise ship
---
WaterWorks
Wanna splish — and splash — the day away? Head on over to Carnival WaterWorks™, our onboard waterpark. First up, there's Carnival'sTwister Waterslide™, hundreds of feet of spiraling awesomeness that starts you off high in the air and gets you down low with one of the fastest, wettest rides you'll find anywhere.
---
Green Thunder Waterslide
You've probably been on waterslides before. But have you been on the steepest waterslide at sea, Green Thunder? If you're up for freefalling and being whipped around at up to 65 kilometres per hour you'll have a blast. If you're not, take a deep breath, and get ready for the ride of your life. We'd say hang on tightly, but there's nothing to hang on to!
---
Serenity Adult-Only Retreat
Somebody at Carnival knows just what you need, and it's the Adult-Only Serenity™ Retreat. You'll still be on the same ship as the kids, the hoopla, and all the Carnival-style excitement… but you could easily forget, because when you're at Serenity you could not be further from it all. You'll find yourself with sea breezes, swaying hammocks and, of course, a nearby bar. It's the place to get done the kind of stuff you just can't seem to do anywhere else — reconnect with your partner, finish that book, lavish some spa time, or do absolutely, blissfully, nothing at all.
---
Mini-Golf
Ah, imagine a perfect day out on the links, the golfer's zen of the ball, the hole and nothing in between but a well-manicured fairway... plus one cactus, a treasure chest... and wait, is that a windmill in the way? Just who designed this course anyway? Whoever it was, they had one thing in mind — maximum fun for mini-golfers, big and small! That's precisely why you'll find a course on every Carnival ship, where you can hit the holes and take in everything you'd expect, like the sights and the sounds... plus the seagulls.
---
Hasbro - The Game Show
You've played Connect 4, but have you ever played giant versions of them onstage in a competition that puts your gaming skills to the test? You'll have your chance when you take part in Hasbro, The Game Show. From SORRY! SLIDERS to CONNECT 4 BASKETBALL, OPERATION SAM DUNK and SIMON FLASH, you can team up with your friends and family to win great prizes, all in front of a live audience. Be sure to check your daily onboard itinerary for show times so you don't miss out on the action … or the prizes.
---
Punchliner Comedy Club
There's chuckle-funny, then there's laughing-so-hard-you-can-barely-breathe funny. To take our Punchliner Comedy Club talent way over the top, we've teamed up with renowned Aussie comedians who are certain to take you to the point of mirthful hysterics. From physical tom-foolery, through sharp one-liners to blood-vessel-busting bardiness, the Punchliner Comedy Club is the home of hilarity.
---
Stage Shows
Our stage shows are designed to razzle and dazzle. Featuring talented singers, musicians and dancers performing crowd-thrilling numbers in extravagant costumes with awesome sets and scenery, it's like catching one of the best shows on land. All performances are created to ensure that every night feels like opening night. And best of all, since shows are included in your fare, it's like having top-dollar tickets to the hottest show in town, absolutely free.
---
Karaoke
Grab the mic and channel your inner rock king, pop princess or disco queen, when you join in the karaoke fun aboard a Carnival cruise. Whichever karaoke experience you choose, choose from hundreds of titles that span a wide variety of genres, from pop hits, country and rock classics.
---
Basketball
You may think basketball is all about the hoop and getting the ball in there, but you may not have ever played on a Carnival ship. Here, it's all about the journey to the hoop: the view and the sea breeze you take in as you drive your way past defenders to put the ball in the basket.
Itinerary
| Date | Port | Arrive | Depart |
| --- | --- | --- | --- |
| 22 Mar 2020 | SYDNEY | 00:00 | 04:00 PM |
| 23 Mar 2020 | AT SEA | | |
| 24 Mar 2020 | AT SEA | | |
| 25 Mar 2020 | NOUMEA | 08:00 AM | 05:00 PM |
| 26 Mar 2020 | MYSTERY ISLAND | 08:00 AM | 05:00 PM |
| 27 Mar 2020 | AT SEA | | |
| 28 Mar 2020 | PORT DENARAU | 07:00 AM | 06:00 PM |
| 29 Mar 2020 | SUVA | 08:00 AM | 05:00 PM |
| 30 Mar 2020 | AT SEA | | |
| 31 Mar 2020 | MARE | 07:00 AM | 03:00 PM |
| 01 Apr 2020 | AT SEA | | |
| 02 Apr 2020 | AT SEA | | |
| 03 Apr 2020 | SYDNEY | 06:30 AM | 00:00 |