Getting married on a Cruise Ship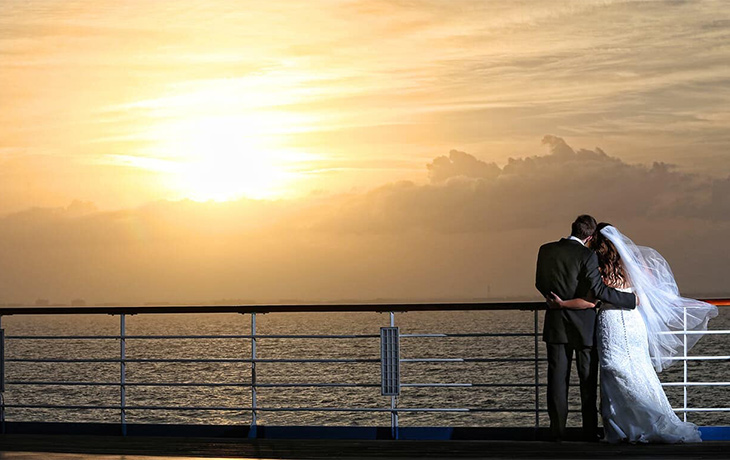 One of the most romantic, serene and memorable ways you can tie the knot is on a luxurious and relaxing cruise. A wedding at sea aboard a world-class cruise ship couldn't offer a better experience for you or your guests. You can even choose to have your ceremony in some of the most untouched and exotic locations across the world, like on a glacier or an island in the Pacific.
Some of the worlds top rated cruise lines offer comprehensive wedding packages that include almost everything you'll need. If you're planning your wedding, and want the most premier experience possible, then check out our guide below.
The Experience
A cruise ship wedding isn't only an exotic and unique way to get married, but it also means you'll have a helpful and experienced team by your side. Wedding and event planners will be aboard to ensure your ceremony runs smoothly, and all of your guests are comfortable. On top of this, you'll have access to some of the most exotic locations in the world if you choose to have your wedding on land. It's a holiday and a wedding all in one.
Preparing a budget for your cruise ship wedding will depend on a few factors, like your number of guests and the duration of the cruise, though one thing you'll be able to look forward to is that a cruise is a far less costly way of getting all your friends and family to a wedding location, and you can have fun doing it.
If you're not exactly thrilled by a traditional church wedding then holding your ceremony onboard a cruise ship or one of its stopover locations is sure to give you and your guests one of the best and most memorable experiences of a lifetime. The opportunity to hold your ceremony onboard at sea, harbourside or at an exotic stopover location with the assistance of professional event planners and coordinators at an affordable price is an opportunity that you can't find anywhere other than a luxury cruise ship.
Choosing your Cruise Line
The cruise line you choose to have your wedding with will affect the number of inclusions you're presented with. Some of the largest cruise lines offer pre-planned and streamlined wedding packages to ensure your wedding is flawless from start to finish regardless of whether you choose harbourside, an island/stopover location or at sea.
Royal Caribbean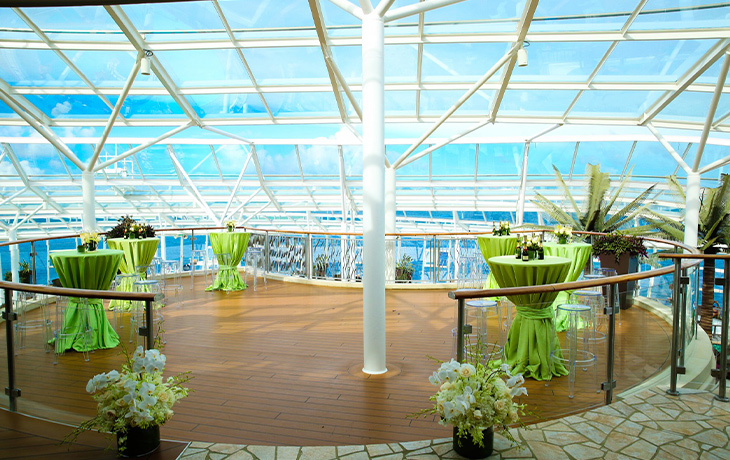 There are a few wedding and ceremony options you'll have to pick from on Royal Caribbean cruises. The line offers packages that cover all aspects of your ceremony and more. That means you'll be able to choose from photography services, a private space for proposals and even event planners who are able to work closely with you and ensure the entire process runs smoothly.
On Royal Caribbean cruises you can choose from 3 distinct wedding packages. We've listed them below.
Royal Proposals
This package gives you the privacy to pop the question in private. You'll also have the assistance of a professional event planner for your ceremony, a day-of-event coordinator and access to the services of a professional photographer.
Destination I Do
Aptly touted as the Ultimate Love Story, the Destination I Do package gives you access to countless inclusions from a personal wedding planner, officiant, wedding ceremony coordinator, priority check-in for all of your guests, as well as a private wedding venue and a three-tier wedding cake. You'll also be presented with a decorated honeymoon room as well as chocolate covered strawberries and a bottle of Moet and Chandon Champagne to top off the night. Other additions will include dinner at a speciality restaurant, a wedding gift from the cruise line, a wedding certificate and breakfast in bed.
Vows at Sea
This package has all of the Destination I Do's inclusions, as well as a pre-cruise wedding planner, a wedding cake for up to 50 guests, 1-hour photography service, a decorated stateroom and private wedding venue.
P&O Cruises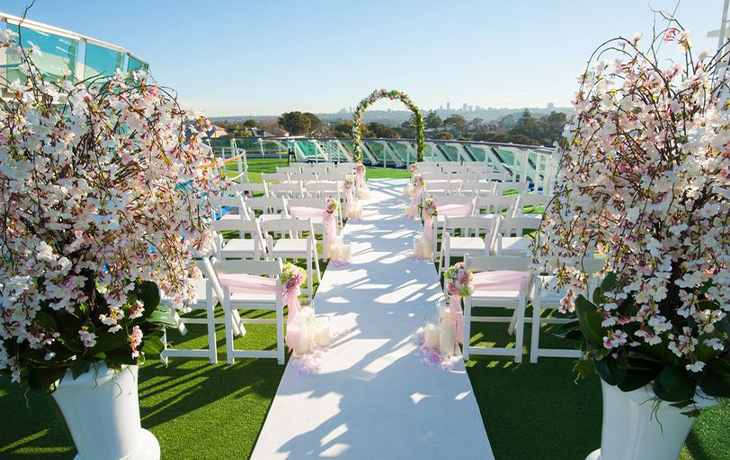 The wedding packages on P&O cruises offer the happy couple and their guests an extraordinary cruise from the moment they arrive at the wharf. Check-in is also a priority over other guests, as is boarding. You'll be able to work alongside P&O's event coordinators and they will ensure everything you need is available to make your event perfect.
P&O offers two main wedding packages and a few food, drink and photography packages to choose from.
Renewal of Vows / Commitment Package
Designed to be a symbolic ceremony, the Renewal of Vows package gives you the choice of celebrating the occasion as a couple, or with your friends and family. The ceremony is performed by the Captain or a Senior Officer.
P&O Wedding Package
The Wedding Package on P&O Cruises gives you a full-service wedding just as you would expect on a luxury cruise line. Your special day will be entirely planned and a ceremony schedule will be developed around all of your requirements.
The package includes a 3-hour photographer, rose bouquet, a stylish venue, a wedding cake, 3 bottles of sparkling wine, wedding certificate, reserved dining and more.
Princess Cruises
An experience of a lifetime awaits onboard a Princess Cruises vessel. Whether at sea, harbourside or an exotic stopover, you'll be given plenty of locations to tie the knot and thrill your guests. A team of professional planners take care of everything, leaving you to have all the fun.
At Sea
For the ultimate wedding at sea, this package is not going to disappoint. With access to a wedding chapel or library for the ceremony performed by the captain and a dozen rose bouquet as well as a 9" wedding cake and bottle of sparkling wine you'll have a lifelong memory of a love filled and luxurious wedding.
Harbour Side
Perfect for non-sailing guests, the Harbourside package includes all of the At Sea inclusions, but the ceremony will conclude before the ship disembarks.
Ashore
An unparalleled offering of an amazing exotic wedding on the beach, in beautiful gardens or on a glacier, the Ashore package offers the chance to be wed at some of Princess Cruises most exotic destinations. A bridal bouquet, boutonnière, speciality wedding cake for 2 as well as a bottle of sparkling wine and destination vows are included with this package.
Staying On Land
If you would like your wedding to be off the ship, and in a stopover location you can easily do this too. Simply let your ship's wedding planner or event coordinator know and you'll be able to have your ceremony at one of the planned stopovers locations. Just be sure to contact a marriage celebrant in that location prior to the ship's arrival to ensure everything runs smoothly with your ceremony.
Having your ceremony at one of the cruise ships stopover destinations means you and all your friends and family will be able to travel the location after the wedding too, see the sights and take in the great weather before getting back on board for your reception or dining options that you've selected.
Cruise's that have stopovers at one of the Pacific Islands are favourites for on-land weddings as they feature great weather and amazing sights and things to do. Cruise lines that travel through Fiji, Vanuatu and New Caledonia and Hawaii are great options for those who want to hold their ceremonies on land.
Plan with CruiseAgency.com.au
Typing the knot on a cruise provides you with a unique and unforgettable experience when celebrating your love with your friends and family. A cruise is also more affordable and action-packed than a traditional wedding, and your guests are sure to love it.
To streamline your planning process and get your hands on some great deals, you can reach out to Cruise Agency for more information and group bookings. We are able to offer group discounts on some cruises as well as plan and coordinate your wedding ceremonies which includes contacting local marriage celebrants at stopover locations or onboard the cruise ship.
If you're looking for the experience of a lifetime that's also affordable and stress-free, leave the booking and planning to Cruise Agency.
---
Author: Alison Campbell
Post Date: 26th March 2018
---
Categories: Cruising