Cruise Ship Parking in Sydney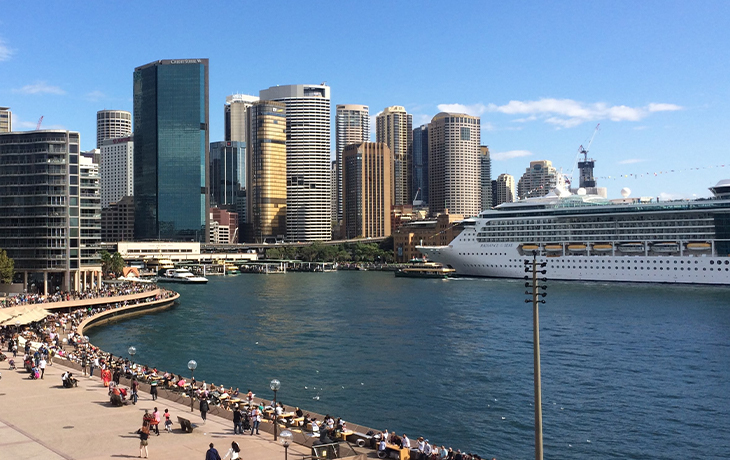 Cruises are the resorts of the seas; a relaxation destination and a way to journey in style. Determining your method of travel to your cruise terminal is a critical part of your trip preparation. If you are voyaging with P&O, boarding will take place at the White Bay Cruise Terminal in Balmain. For other cruise liners, including Carnival and the Royal Caribbean, expect to depart from Circular Quay, Sydney CBD. There are numerous transport options, largely dependent on your proximity to your boarding port. Here are some recommendations for travelling to your cruise terminal.
Travelling from a Different State?
For out of state travellers, trains and buses are available for those who do not wish to fly. Dependent on the travel distance, these transport methods can quickly become expensive. For example, prices for a train trip from Melbourne to Sydney start at $130. For buses and coaches, pricing varies from $30 to as much as $275. Costs for public transport are also subject to time of travel. Overnight trips are typically more expensive due to the additional lodging costs.
Sydney Domestic Airport to Overseas Passenger Terminal
Airport Link is the train service that operates between Sydney Domestic Airport and train stations on the Transport NSW network. The current price for a train between the Domestic Airport Station and Circular Quay is $19.40 for Adults, and $15.40 for children. The journey takes 18 minutes, and there are trains leaving approximately every 9 minutes.
For passengers on a P&O cruise, using public transport to travel to White Bay Cruise Terminal can be difficult. As most coach services stop at Sydney Airport or Central Station, those travelling to Balmain will have struggle. Options are limited and with the additional burden of luggage, changeovers and long distances walks to your boarding port are not ideal. Arriving by car is the easiest mode of transport.
Other cruise lines such as Royal Caribbean and Carnival Cruises typically depart from Circular Quay. Trains arrive directly at the Cruise Terminal from Central Station.
If you are travelling from a different state, make sure to leave leeway for unforeseen circumstances. It is not recommended to arrive at your boarding port on your departure day. If you miss your check-in time, it is likely that you will not be permitted to board. To ensure an on-time arrival, it is recommended you stay in a nearby hotel overnight.
With accommodation at Circular Quay starting at $202 a night, these additional costs can quickly add up, deducting from your holiday spending. As Circular Quay is easily accessible by public transport, try staying overnight near a major transport hub such as Chatswood. Accommodation prices within walking distance of Chatswood Station begin at $131, potentially saving you $70 a night.
Living on the Outskirts of Sydney?
For those living on the outskirts of Sydney CBD, public transport including trains, ferries and coaches are available for use. Hiring a taxi or a minibus for pick up and drop off is an option, particularly if travelling in a large group. These can, however, become quite expensive. Your dependence on a driver can also mean long waiting periods. Timing your boarding properly for your cruise from Sydney is quite crucial, especially when attempting to avoid long queues. The 12pm to 2pm check-in window is often the busiest, so arriving prior is recommended. A minibus may be unable to afford you the arrival flexibility you need. For convenience, consider bringing your own vehicle. If boarding at Circular Quay, to avoid high parking costs, park at a major transport hub or ferry station and take public transport directly to the Cruise Terminal.
Price Comparison Table
Traditional Parking Facilities … From $213
Sydney Cruise Ship Parking … From $180
Parkhound … From $51.75
---
Author: Alison Campbell
Post Date: 18th April 2018
---
Categories: Cruising