Cruise Guide to Mystery Island, Vanuatu
Mystery Island is a deserted tropical island in the island nation of Vanuatu. The official name of the island is Inyueg, and it's located in the southern part of the archipelago that makes up Vanuatu. It's a small island off the shore of Tanna, the southernmost island of Vanuatu. It's pristine white sand beaches and turquoise waters make it a perfect shore excursion as part of your cruise holiday.
Which Cruise Lines Cruise to Mystery Island
Almost all of the major cruise lines operating out of Australia have cruise itineraries which include the beautiful Mystery Island. Carnival cruises make regular stops there, especially on their selection of cruises from Sydney. There's also a transpacific cruise that leaves from Honolulu, stops at Mystery Island, and ends in Brisbane. Royal Caribbean also takes you to Mystery Island as part of the 7 or 8 night cruises out of Brisbane, or the 7 or 10 night cruises out of Sydney. Princess cruises offer it as a stop on most of their cruises, whether they're leaving from Sydney, Brisbane, Adelaide or Melbourne. Celebrity Cruises have plenty of departure dates to Mystery Island as well with their Celebrity Solstice cruise ship. Note: all of the Australian Celebrity Solstice cruises during 2020 and 2021 depart from the port of Circular Quay (Sydney).
Facts About Mystery Island
Mystery Island got its name when it was used as an airstrip by the Allies during WWII. The island's tiny size and remote location prevented the Japanese from figuring out where the planes where coming from, and so it was called the mystery island.
The island is just under a kilometer long and is roughly 200 meters wide, which means you can walk around the whole island and see everything there is to see in about thirty minutes. Some people say the locals consider it taboo to live on the island, but more likely it's the small size that's kept it uninhabited. The locals on the island all live on the larger, neighboring islands and come in for the day when cruise ships are stopping there.
Because it's uninhabited, there's no electricity, no phones, and no roads on the island. You can get a taste of what it's really like on truly deserted tropical island here.
Australian currency is accepted on the island, but only in coins. With no electricity and no phones, paying with a card would be impossible.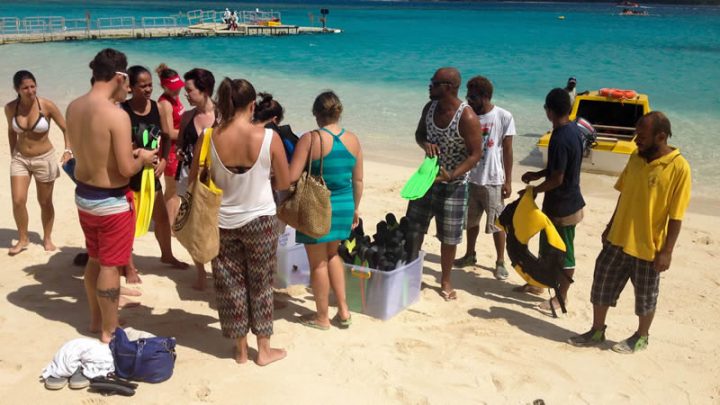 Things to See and Do on Mystery Island
There are literally so many things to do on your shore trip to Mystery Island. With so many tourist opportunities, it's no wonder that this one of the most popular port destinations for many cruise passengers. Some of our favourite things to do include:
Snorkeling
With crystal clear, turquoise waters, Mystery Island is a perfect place for snorkeling. The island's secluded location means that its coral reefs are largely undisturbed, so you'll see lots of beautiful, colorful corals and fish. Barracuda, parrot fish, clown fish, and even sea turtles are all present in large numbers here, and there's plenty of room for snorkelers to explore.
Remember though that you'll need to bring your own gear- there's no place to purchase or rent snorkeling equipment on the island. Some cruises may offer their own equipment, along with professional guides, but these of course will cost extra. It might be worth it, though, as some of these tours allow you to hand-feed the fish.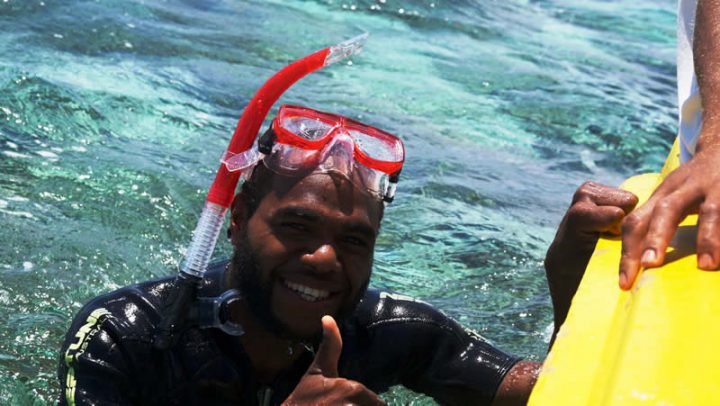 Stand Up Paddle Boarding
The waters between Mystery Island and nearby Aneityum are very calm, making them the perfect place for beginners to learn how to stand up paddleboard. Celebrity Cruises are just one of the cruise lines that offer this activity and you can prebook it while still onboard before you arrive to the island. This is one of the most enjoyable ways to take in the sights and sounds of the South Pacific. While it definitely keeps you active, it's also a calm and relaxing experience. The water is so clear that you can see the fish, coral, and turtles beneath you as you paddle.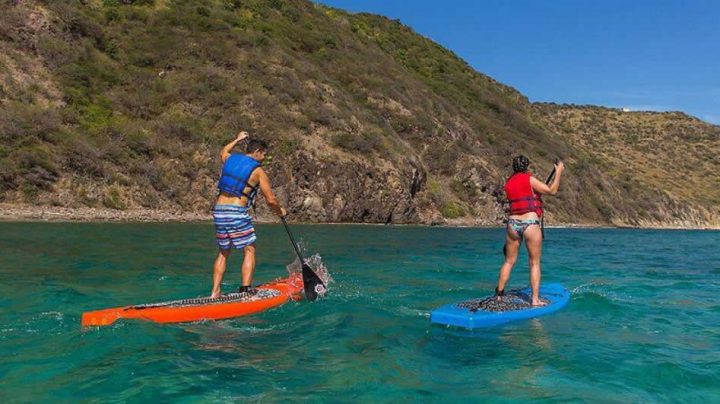 Glass Bottom Boat Tour
If you want to see everything the coral reefs have to offer but aren't up for something as active of snorkeling or stand up paddle boarding, the glass bottom boat tours are the perfect solution. The hour-long boat ride takes you over the whole reef, allowing to easily look down and see all the color marine life passing beneath your feet.
You'll need to book these tours in advance, preferably at the same time you book your cruise. They're definitely worth it, though, as it's one of the most relaxing ways to see the beautiful coral reefs.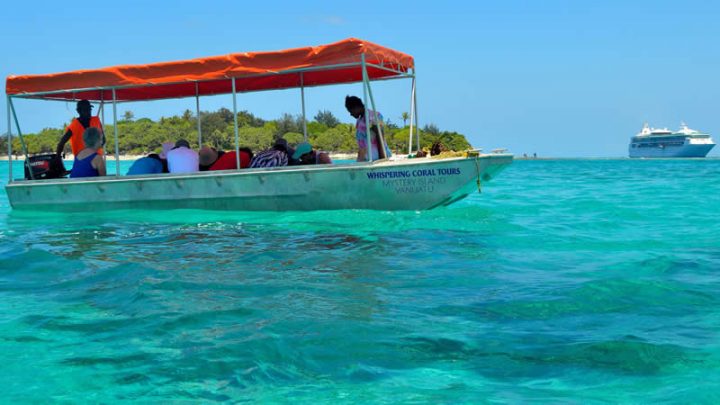 Glass Bottom Kayak
Maybe you like the idea of the Glass Bottom Boat tour but want to do something a little more active. Glass bottom kayaks are available, and they might be just what you need. You can paddle around the island, over the reefs, and get to see all the same things you would've seen on the boat tour, but with the added benefit of being able to paddle yourself. Not only is this more active, it also gives you control over where you go so that if you see something particularly interesting you can hover over it for a bit longer.
Cultural Village Tour
If you want to learn about the traditional cultures of the island, look no further than Keamu village. Since Mystery Island is actually uninhabited, this excursion requires you to take a short ferry ride to the nearby island of Aneityum. Once there, the village warriors will greet you first and grant you passage into the village, where you'll be met by the village chief and villagers in traditional clothing. You'll learn about traditional hunting and fishing techniques, traditional food preparation, and the ancient way of life that sustained Vanuatu's original inhabitants.
P&O Cruises Australia also offers trips out to the nearby island of Aneityum. Here you can meet with local families on this small island and learn about their culture, way of life, cooking demonstrations, as well as gaining an interesting insight into their warrior cultural history.  Don't worry though, despite their fiersome appearance, the local people of Aneityum island are some of the most friendly and welcoming people that you are every likely to meet.
Cultural village tours are a highly popular day tour for cruise passengers visiting Mystery Island, and one that we highly recommend.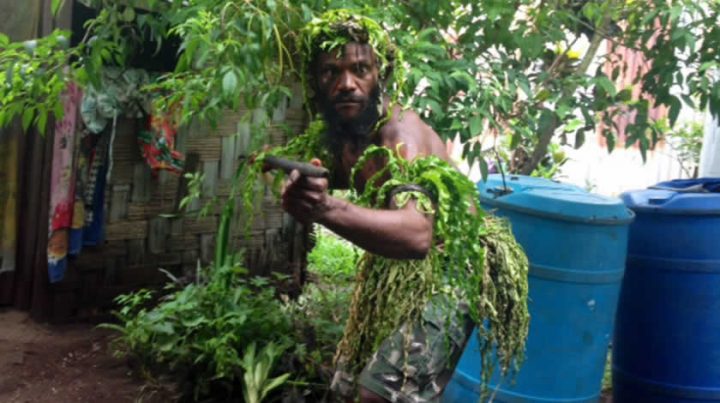 Fishing
Mystery Island and Vanuatu are often described as a fisherman's paradise. Skipjack, yellowfin, mahi-mahi, and marlin are all common in these waters and the professional guides have been fishing for them here for their whole lives. Most fishing trips for cruise passengers last around 2.5 hours.
Hair Braiding
Getting your hair braided while you lay on the beautiful beach of Mystery Island is something that is popular with cruise passengers both young and old. Not only will you get your hair braided but you can chat to one of the local women as you gives you a new hair style, and learn all about her lifestyle.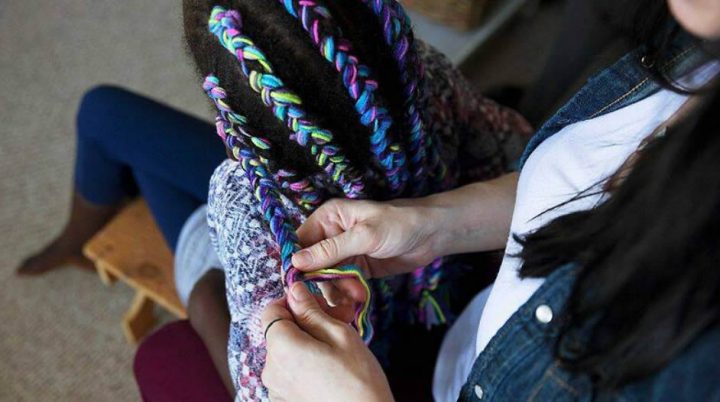 Conclusion
Mystery Island is the ultimate tropical paradise. White sand beaches, turquoise water, and a deserted island. Whether you want the cultural experience, or you're a nature buff who just wants to explore the reefs, a diehard angler who can't wait to get a line in the water, or you just want to lounge on a beautiful beach all day, Mystery Island has something for you. Almost every cruise line that sails out of Sydney and Brisbane offers cruises that stop at Mystery Island, so be sure that the one you've booked stops at this unforgettable destination.
---
Author: Alison Campbell
Post Date: 7th December 2019
---
Categories: Ports
Tags: Mystery Island , Vanuatu