Cruise Guide to Cairns, Australia
Gateway to the Great Barrier Reef, Cairns is an Australian tourism hotspot and popular cruise destination among local and international travellers. The laid-back city is one of the best places from which to access and enjoy Australia's great outdoors. In the city you can find chic cafes and bustling markets. Outdoors though, you'll be able to discover hidden swimming spots, the World Heritage Listed Daintree Rainforest, and of course, the Great Barrier Reef. Overall, Cairns offers something for everyone and won't leave you disappointed should you make it part of your travel plans.
Facts about Cairns
Named for William Wellington Cairns in 1876, Cairns is one of the fastest-growing cities in the state of Queensland. It wasn't until 1923 that Cairns was recognised as a city, though. It is home to the world's longest lava tubes, as well as the country's largest moth, known as Hercules. Measuring up to 7m in length, the world's largest ferns, King Ferns are found in the Cairns region. Most easily accessible from Cairns, the Great Barrier Reef is also one of the first World Heritage listed sites in all of Australia.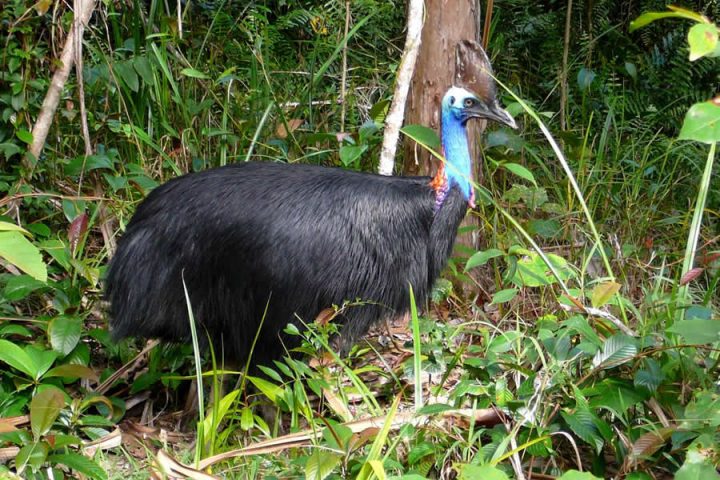 Cruises to Cairns
Most major cruise operators, including P&O, Cunard and Princess Cruises offer itineraries that include Cairns. The city of Brisbane offers the most departures to Cairns, though you can visit the coastal city from Sydney and Melbourne as well. Most of the destinations that cruise ships will commonly stop, as part of your cruise holiday to cairns will include Port Douglas, Airlie Beach and Willis Island. Typically, cruises to Cairns don't include any international stopovers.
Things to see and do in Cairns
There is no shortage of activities to do or sights to see when you're in Cairns. The gateway to the Great Barrier Reef offers plenty for every kind of travel, whether you prefer to be on land, in the water or up in the sky. Below, we take you through some of our favourite activities to help you out during your cruise holiday to Cairns.
Devil's Pool
One of Cairn's most popular tourist attractions, Devil's Pool makes for a must-see site during your cruise holiday. Here crystal clear water of the Babina Creek flows downstream to then plummet over a set of boulders and into a basin known as Devil's Pool. According to legend, the spirit of a woman named Oolana lays in wait at the bottom of the pool, attempting to lure young men to their death. If you're looking to swim at Devil's Pool then do so with plenty of caution and when there hasn't been much rain. Otherwise, the water in Babina's Creek is a great place to go for a dip.
Josephine Falls
Like Devil's Pool, Josephine Falls feature powerful plummeting water surrounded by an idyllic environment. Here, you'll truly feel like you're in a real tropical paradise, as the waterfall is surrounded by lush greenery and there are sandy banks just down stream. If you're looking to spend a whole day here then the nearby BBQ and other public facilities make Jospehine Falls a great place to do so. At Josephine Falls, there are designated swimming areas where it is safe to go for a dip. This attraction has been featured in many tourism ads for the Great Barrier Reef and Daintree Rainforest, so make sure it's part of your sightseeing itinerary.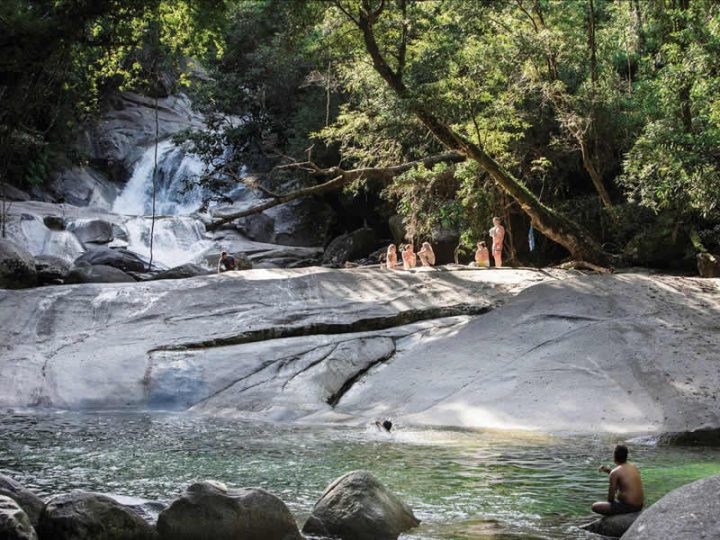 Great Barrier Reef Pontoon
As we mentioned, Cairns is considered the gateway to the Great Barrier Reef. That means, you can't go without experiencing The Great Barrier Reef during your cruise holiday to the tropics. One of the best ways to do so is to take a ferry and head to the Great Barrier Reef Pontoon. Once you get here, you will be able to go snorkelling, scuba diving, sea walking, take glass-bottom boat cruises, and even enjoy helicopter rides over The Great Barrier Reef. A must-do activity in Cairns, the Great Barrier Reef Pontoon makes for a great all-day experience. If you're here long enough, overnight stays are possible, as the pontoon is built to house between 100 and 200 people.
Stand-up Paddleboard Tour
One of the best ways to see and experience the Daintree Rainforest during your cruise holiday to Cairns is by taking a relaxing stand-up paddleboard tour. During the tour, you will be surrounded by lush dense forestry as you paddle upstream under the cover of surrounding shady trees. There will be ample opportunity for pit stops, as there are sandy banks along the route. Also, you will have the opportunity to try some fresh local fruits. Then, on your way back, you can truly relax as the current gently takes you back to the starting point.
Kuranda Scenic Railway
Described as one of the most unique scenic railway experiences in Australia. The railway takes you from the town of Kuranda over the Great Dividing Range, as it winds through the World Heritage listed Daintree Rainforest. Taking you past a spectacular array of stunning plan and animal life and into the Barron Gorge, the scenic tour lasts about 55 minutes one-way, including stopovers at some waterfalls. For a luxury experience, buy Gold Class tickets and you will be able to take in sights of the Daintree Rainforest from train's vintage refurbished carriages.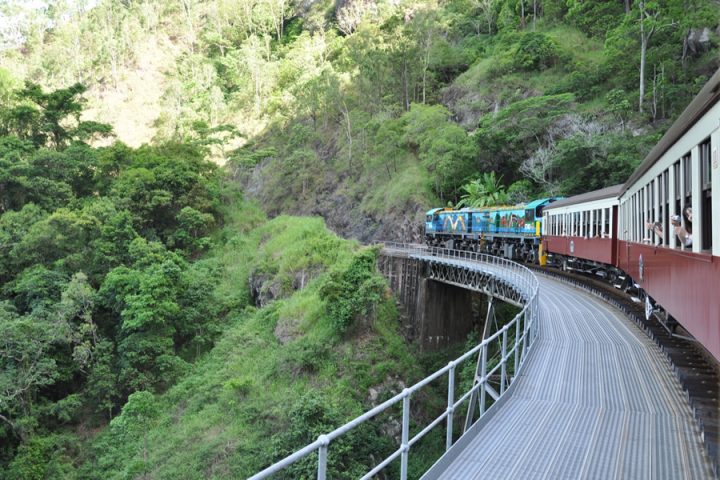 Mission Beach
If you're looking to get out of Cairns and see on the Great Barrier Reef's best beaches then head to Mission Beach. Facing easterly and lined with palm trees, the 14km long beach is the ultimate tropical paradise. Mission Beach is a great place to experience either sunrise or sunset, so if you have the opportunity to do either, make sure you take full advantage. Here you'll be able to engage in adrenaline pumping activities such as skydiving and whitewater rafting. Or, if you're after something more relaxing, nature-based walks are on the cards as well. At the end of the day though, if you're looking to just soak in some sun, the soft golden sand of Mission Beach is a great place to do just that.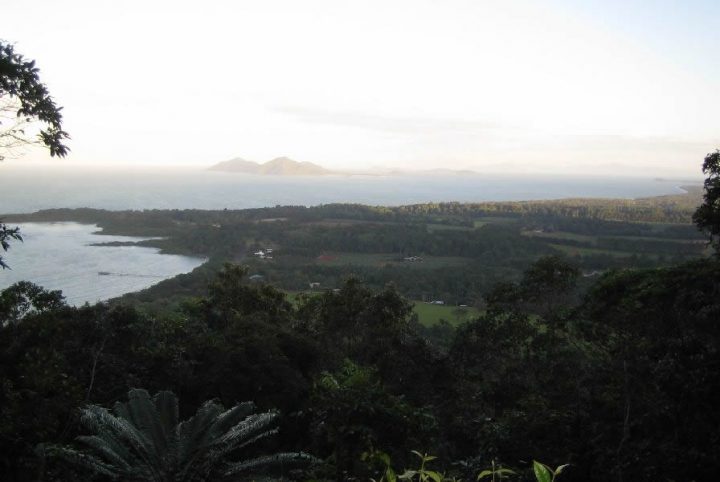 ---
Author: Sophie Anderson
Post Date: 9th February 2020
---
Categories: Ports
Tags: Australia , Cairns , Queensland