Pacific Explorer - 20 Dec 2021
Cruise Line: P&O
Ship: Pacific Explorer
Cruise Code: x160
Departure Date: 20 Dec 2021
Departure Port: Melbourne
Nights: 8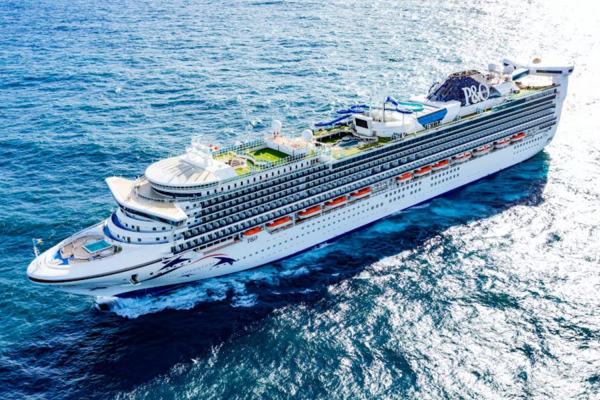 Cruise Line: P&O
Ship: Pacific Explorer
Cruise Code: x160
Departure Date: 20 Dec 2021
Departure Port: Melbourne
Nights: 8
Single Cabin
Price (pp)
Interior

Interior

IA

$ 3,034

Interior

IB

$ 2,943

Interior

IC

$ 2,875

Interior

ID

$ 2,828

Interior

IE

$ 2,783

Interior

IF

$ 2,783

Oceanview

Oceanview

OD

$ 3,290

Oceanview

OE

$ 3,235

Oceanview

OF

$ 3,180

Oceanview

OG

$ 3,126

Oceanview

OI

$ 3,290

Oceanview

OV

$ 3,126

Balcony

Balcony

BA

$ 3,472

Balcony

BB

$ 3,418

Balcony

BC

$ 3,363

Balcony

BD

$ 3,308

Balcony

BE

$ 3,308

Suite

Suite

MB

$ 5,497

Suite

SA

$ 6,529

Suite

PT

$ 7,829

Suite

MA

$ 5,906

Twin Cabin
Price (pp)
Interior

Interior

IA

$ 1,522

Interior

IB

$ 1,477

Interior

IC

$ 1,441

Interior

ID

$ 1,418

Interior

IE

$ 1,395

Interior

IF

$ 1,395

Oceanview

Oceanview

OD

$ 1,650

Oceanview

OE

$ 1,623

Oceanview

OF

$ 1,595

Oceanview

OG

$ 1,568

Oceanview

OI

$ 1,650

Oceanview

OV

$ 1,568

Balcony

Balcony

BA

$ 1,741

Balcony

BB

$ 1,714

Balcony

BC

$ 1,686

Balcony

BD

$ 1,659

Balcony

BE

$ 1,659

Suite

Suite

MB

$ 2,754

Suite

SA

$ 3,271

Suite

PT

$ 3,921

Suite

MA

$ 2,959

Triple Cabin
Price (pp)
Interior

Interior

IA

$ 1,355

Interior

IB

$ 1,325

Interior

ID

$ 1,279

Interior

IE

$ 1,264

Oceanview

Oceanview

OD

$ 1,440

Oceanview

OE

$ 1,422

Oceanview

OG

$ 1,386

Oceanview

OI

$ 1,440

Oceanview

OV

$ 1,386

Balcony

Balcony

BA

$ 1,531

Balcony

BB

$ 1,513

Balcony

BC

$ 1,495

Balcony

BD

$ 1,477

Balcony

BE

$ 1,477

Suite

Suite

MB

$ 2,459

Suite

SA

$ 2,946

Suite

PT

$ 3,531

Suite

MA

$ 2,666

Quad Cabin
Price (pp)
Interior

Interior

IA

$ 1,271

Interior

IB

$ 1,249

Interior

ID

$ 1,214

Interior

IE

$ 1,203

Oceanview

Oceanview

OD

$ 1,335

Oceanview

OE

$ 1,322

Oceanview

OG

$ 1,294

Oceanview

OI

$ 1,335

Oceanview

OV

$ 1,294

Balcony

Balcony

BA

$ 1,426

Balcony

BB

$ 1,413

Balcony

BC

$ 1,399

Balcony

BD

$ 1,386

Balcony

BE

$ 1,386

Suite

Suite

MB

$ 2,323

Suite

SA

$ 2,784

Suite

PT

$ 3,336

Suite

MA

$ 2,519
Oceanview
Kick back and enjoy million-dollar sea views, all to yourself. These bright, light-flooded rooms offer a window or porthole view and a range of bedding options.
---
Balcony
Fling your doors wide open and breathe in the crisp ocean air. With all the comforts of a hotel - but on the sea - you'll feel completely relaxed lounging on your private balcony, feet up, enjoying a view few will see. Order in some cocktails or curl up with a book for ultimate vacation vibes.
Explorer Hotel
Enjoy a range of draft beers, boutique ales and ciders served in a friendly atmosphere.
---
The Bonded Store & Archie Rose
We're proud to introduce our new partnership with Archie Rose Distilling Company. Enjoy their incredible spirits in The Bonded Store and take part in special gin making classes.
---
Blue Room
Head to the Blue Room for an intimate live music experience. With everything from Blues to RnB, jazz and funk, this isn't your typical cruise music.
---
Players Bar & Casino
Here the music is low and the stakes are high, so place your bets at roulette or blackjack and rife the adrenalin train that is Players Bar & Casino!
---
Oasis Bar
A happy, child-free paradise with a relaxed vibe and deckchairs galore. Relax with a cocktail in hand and watch the sun set over the ship's wake.
---
Pool Bar
A relaxed bar perfect for everyone. Gather together, grab a cocktail and sip the day away by the pool.
Waterfront Restaurant
Dinner with a view. Technically all of our restaurants are on the waterfront, but you get the idea. With over 40 à la carte menu items for breakfast, lunch and dinner, this modern Australian restaurant serves up a sophisticated selection of both classic dishes and cutting edge cuisine. Plus you can keep the kids happy with our mini menu. Offering a huge choice of menu options that are both nutritious and sure to please, the kids specials menu changes daily, so even the fussiest eaters will find something they'll love. The Waterfront restaurant is available on all P&O ships and is open for breakfast and dinner every day and lunch most days.
---
Angelo's
Live la dolce vita. When it comes to food, Italians sure are passionate. The chefs at Angelo's are no different.
From the first bite to the last mouthful, the menu at Angelo's is Italian food done the right way. Think soul warming traditional dishes with a delicious modern twist. Surrounded by images of Latin legends captured by one of Italy's most famous photographers, Angelo Frontoni, the restaurant is the perfect setting to enjoy la dolce vita as you indulge in a meal to remember.
Good food takes time, so that's why Angelo's is open for dinner only. Book a table and the chefs will spend the day preparing your set menu so you can spend the day dreaming of a feast shared with loved ones, new friends and old favourites. Only available on Pacific Aria, Pacific Eden and Pacific Explorer.
---
Dragon Lady
Take your taste buds East. Immerse yourself in the intoxicating flavours of Asia at Dragon Lady. From delicate sushi rolls to fragrant curries and spicy stir-fries, Dragon Lady is bringing the heat. With a sultry mix of dark timbers and midnight blue tones, it boasts an intimate and mysterious setting. Be seduced by the exotic scents and spices of a menu inspired by Australians' passion for Asian cuisine. Bursting with flavour, every mouthful promises a tantalising night in the Orient. Open every night for dinner, featuring a fixed menu giving guests the opportunity to enjoy a sensual feast of Chinese, Thai, Korean, Vietnamese, Indian or Japanese. Only available onboard Pacific Aria, Pacific Eden and Pacific Explorer.
---
The Pantry
Our food court-style restaurant (Bye Bye Buffet) brings you a wealth of culinary creations from the best variety of international cuisine to creature comfort, modern Australian favourites. With menus changing daily, from the adventurous to family favourites, there's something for everyone!
---
Curry House
Taste the flavours of the world's most exotic places at Curry House, a smorgasbord of classic curry flavours and authentic dishes.
---
Mexicana
Mexican tacos filled with favorites like homemade salsas and pickles, chili, guacamole, fresh lime and cheese. Yes please!
---
Kettle & Bun
Kettle & Bun is serving up freshly baked bread, expertly crafted sandwiches, great tasting salads and mouth-watering soups.
---
Sugar Bar
Indulge in a sweet selection of perfectly baked cakes, flaky buttery pastries and delightful individual desserts at Sugar Bar.
---
Hook's Fish & Chips
The local fish and chip shop, serving up crispy battered fish and hot chips with the perfect amount of crunch.
---
Stix
Stir-fries, sizzling noodles and soups. Indulge your passion for Asia's finest cuisines with the intriguing menu at Stix.
---
Fat Cow
Vegetarians beware. At Fat Cow we're serving up the finest cuts possible to send meat lovers into a flutter.
---
McGregors Garden
Make friends with salad at McGregor's - serving up a selection of fresh salads that change daily.
---
Nic & Toni's
Serving Mediterranean dining options with fresh seafood and pasta dishes.
400 Gradi
Foodies rejoice! Pacific Explorer is now home to a new Pizzeria, 400 Gradi, overseen by famed and award-wining Melbourne pizza chef Johnny Di Francesco who won the Best Pizza in the World award in 2014. Buon appetite!
---
Shell & Bones
Enjoy the catch of the day or feast on some seriously good meats from the butcher, out at sea! From land to the sea, Shell & Bones is perfect for seafood lovers, meat lovers and vegetarians alike. Don't miss the hot seafood extravaganza for two, delicious! Or, take a pick from items off the grill and choose from beef short ribs, juicy steaks and more. Open for dinner.
---
A Taste Of Salt
Don't miss our favourite celebrity chef's new restaurant on Pacific Explorer. A Taste of Salt by Luke Mangan offers a mouth-watering degustation menu featuring a number of Luke's signature dishes.
---
Luke's
Following on from the success of Salt grill by Luke Mangan, we're excited to offer the trendy and casual al fresco outlet Luke's on Pacific Explorer, serving up some seriously delicious burgers.
---
New Zealand Ice Cream
Why stop at one scoop? Try all your favourite flavours onboard at New Zealand Natural ice cream.
---
In-Room Dining
If you don't feel like eating out, you can order in with our room service menu. Breakfast in bed anyone?
Turtle Cove
Ages: 2-5 years old
This is the place for the smallest member in your family! We just know they're going to be all smiles when they spend time in Turtle Cove. We put our best thinking caps on when we created the range of games, toys and activities for the kids aged 2-5 years old, which means they're not only fun but they're educational too! Plus, when playing in Turtle Cove your kids will be well supervised by our experienced youth staff. We think that's pretty cool! From play centre to arts and crafts, theme nights to talent shows – the hardest part of Turtle Cove is deciding what to do first. Please make sure your child is toilet trained, otherwise they won't be able to join in the fun at Turtle Cove.
We also offer children from 2 years of age, who are in nappies, the opportunity to participate in the activity program without the requirement of a parent or guardian to be in attendance. However, parents and guardians must be available at all times to change their children's nappy when contacted by our Youth team. As always, there are a limited number of places available in our youth centres and entry is a first come first served basis.
---
Shark Shack
Ages: 6-9 years
Big bites of fun. There is so much fun for your kids to sink their teeth into at the Shark Shack, our special club created for kids aged 6 -9 years. It's the perfect place for them to make new friends and play with kids their own age. Plus we put our best thinking caps on when we created the awesome range of games, toys and activities, which means they're not only fun but educational, too. Plus, our experienced Youth Staff are always there to lend a hand and supervise the fun. We have scavenger hunts, jewellery making, computer games, dance lessons, LEGO® activities* and theme nights – just to name a few. With so much to do at Shark Shack the kids will be fast asleep before their heads hit the pillow each night.
---
HQ
Ages: 10-13 years
Hang out headquarters. We know that teenagers can be hard to please on holiday but when you're on a P&O cruise, you don't have to worry! That's because we've created HQ. It's the ultimate chill zone made just for them so they can have the coolest holiday ever. We think (and we know they'll agree) that it's the place to be for kids and teens aged 10 -13. They can make new friends, play video games, check out movies and hang out with our incredible Youth Staff. Plus if that's not enough, there is a whole range of activities available. From singing their hearts out at karaoke sessions to commanding the spotlight at the talent show, filmmaking to playing in a rock and roll band – they'll be having so much fun at HQ you'll be begging them to come hang out with the family!
---
HQ+
Ages: 14-17 years
HQ+ is the coolest hang on the ship. Specially created for 14-17 year olds so the teens can leave their little brothers and sisters behind and chill out with people their own age. We designed this space with them in mind and that's why they have their own special lounge where they can have the best holiday ever! It's a place to make new friends, play video games, check out movies and interact with our incredible Youth Staff. If that's not enough, there is a whole range of extra activities available.
Spectacular Shows
Sing their praises. Fancy a show after dinner? Our original production shows are choreographed by a leading Australian production company and designed exclusively for P&O Cruises audiences. Performed in the impressive two-storey The Marquee theatre and with a number of different shows* featured on each ship, you'll be spoilt for choice.
---
Waterpark and Waterslides
Splish, Splash & Slide the day away. Take it up a notch with our seriously splashy waterpark. Let the kids play the day away at our zany waterpark with fun interactive water features or embrace your inner child with a ride on one of our waterslides, made for all ages.
Rules & Regulations: To use the waterslides guests must have a minimum height of 1.2mtrs and maximum weight not exceeding 120kg. No children/individuals in nappies, swim nappies or who are not toilet trained are permitted.
---
P&O EDGE Adventure Park
Life on the edge! P&O Edge is not for the faint hearted. If you're up for some extra adventure, join the adrenalin junkies at P&O Edge Adventure Park. It's Australia's largest adventure park at sea, and take it from us, it's awesome!
Have you ever wanted to, say, race down a zip line on the top deck of a cruise ship? At P&O Edge you can! With up to 19 exciting activities you can get really get your heart pumping. Reach the top with the funnel climb, don't look down when crossing the slackline or take a leap of faith on the flying fox. Plus experience new activities exclusive to Pacific Dawn like Walk The Plank, Crow's Nest Viewpoint and the Boulder Wall.
---
Adults Only Comedy Club
It's a laugh-a-minute at the adults only comedy club, the perfect place to kick back and relax onboard.
---
Casino
There are roulette and blackjack tables, gaming lessons for beginners and poker machines to bring even more luck to your cruise.
---
Trivia & Game Show/h2>
Join in a round of trivia with friends or take part in one of our popular game shows.
---
Big Screen
Big entertainment day or night. The Big Screen shows sporting events, movies and even Wii games.
---
Deck Games
Try your hand at our huge selection of deck games including golf putting, table tennis, quoits and more.
---
Laser Tag
Tag, you're it! Battle it out with friends and family during an all-ages game of laser tag.
---
Mixology Classes
Be taught how to make four of our onboard cocktails plus some take home tips for creating your own.
---
Karaoke
Belt out your favorite tunes and unleash your inner pop star with our onboard Karaoke.
---
Jackpot Bingo
Think you have lady luck on your side? Try your hand at Jackpot Bingo and you could win big.
Itinerary
| Date | Port | Arrive | Depart |
| --- | --- | --- | --- |
| 20 Dec 2021 | MELBOURNE | 00:00 | 04:00 PM |
| 21 Dec 2021 | | 03:00 PM | 05:00 PM |
| 22 Dec 2021 | HOBART | 08:00 AM | 06:00 PM |
| 23 Dec 2021 | PORT ARTHUR | 07:00 AM | 04:00 PM |
| 24 Dec 2021 | BURNIE | 09:00 AM | 05:00 PM |
| 25 Dec 2021 | AT SEA | | |
| 26 Dec 2021 | KANGAROO IS | 07:00 AM | 06:00 PM |
| 27 Dec 2021 | AT SEA | | |
| 28 Dec 2021 | MELBOURNE | 07:00 AM | 00:00 |