Pacific Explorer - 17 Dec 2019
Cruise Line: P&O
Ship: Pacific Explorer
Cruise Code: x965
Departure Date: 17 Dec 2019
Departure Port: Sydney
Nights: 10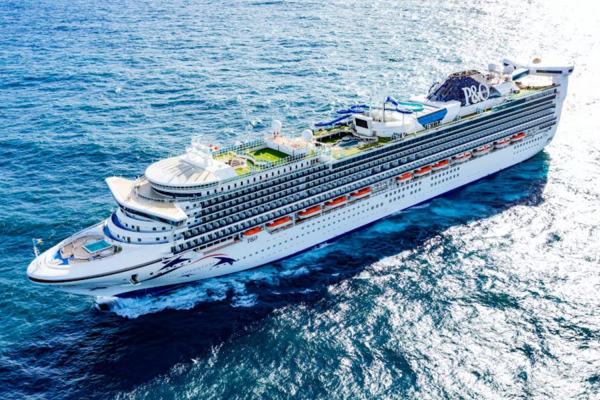 Cruise Line: P&O
Ship: Pacific Explorer
Cruise Code: x965
Departure Date: 17 Dec 2019
Departure Port: Sydney
Nights: 10
Single Cabin
Price (pp)
Interior

Interior

IA

$ 3,049

Balcony

Balcony

BC

$ 3,933

Suite

Suite

PT

$ 8,611

Suite

MA

$ 5,557

Twin Cabin
Price (pp)
Interior

Interior

IA

$ 1,530

Interior

IB

$ 1,484

Interior

IC

$ 1,439

Interior

ID

$ 1,416

Interior

IF

$ 1,393

Oceanview

Oceanview

OD

$ 1,840

Oceanview

OE

$ 1,812

Oceanview

OF

$ 1,785

Oceanview

OG

$ 1,742

Oceanview

OV

$ 1,757

Balcony

Balcony

BB

$ 2,004

Balcony

BC

$ 1,972

Balcony

BE

$ 1,940

Suite

Suite

PT

$ 4,311

Suite

MA

$ 2,784

Triple Cabin
Price (pp)
Interior

Interior

IB

$ 1,423

Suite

Suite

PT

$ 3,882

Suite

MA

$ 2,508

Quad Cabin
Price (pp)
Interior

Interior

IA

$ 1,416

Interior

IB

$ 1,393

Interior

IE

$ 1,332

Oceanview

Oceanview

OE

$ 1,557

Oceanview

OG

$ 1,514

Oceanview

OV

$ 1,530

Balcony

Balcony

BA

$ 1,653

Balcony

BB

$ 1,653

Balcony

BD

$ 1,605

Balcony

BE

$ 1,621

Suite

Suite

PT

$ 3,668

Suite

MA

$ 2,370
Interior
Oceanview
The Bonded Store & Archie Rose
We're proud to introduce our new partnership with Archie Rose Distilling Company. Enjoy their incredible spirits in The Bonded Store and take part in special gin making classes..
Black Circus
Black Circus takes onboard entertainment to new levels with exclusive dinner and show packages and a glamorous cabaret style show. It's the ultimate night out full of spectacle and outrageous fun!
Blue Room
You'll find a selection of talented home-grown Australian musicians playing live every night on Pacific Explorer.
Explorer Hotel
Well known for our social bar scene, Pacific Explorer takes night life to the next level with a huge range of inviting bars and pubs, like the new Explorer Hotel pictured above.
Waterfront Restaurant
Dinner with a view! Technically all of our restaurants are on the waterfront, but you get the idea. With over 40 a la carte menu items for breakfast, lunch and dinner, this modern Australian restaurant serves up a sophisticated selection of both classic dishes and cutting edge cuisine. Plus you can keep the kids happy with our mini menu. Offering a huge choice of menu options that are both nutritious and sure to please, the kids specials menu changes daily, so even the fussiest eaters will find something they'll love. The Waterfront restaurant is available on all P&O ships and is open for breakfast and dinner every day and lunch most days.
Angelo's
Live la dolce vita. When it comes to food, Italians sure are passionate. The chefs at Angelo's are no different.From the first bite to the last mouthful, the menu at Angelo's is Italian food done the right way. Think soul warming traditional dishes with a delicious modern twist. Surrounded by images of Latin legends captured by one of Italy's most famous photographers, Angelo Frontoni, the restaurant is the perfect setting to enjoy la dolce vita as you indulge in a meal to remember.
Good food takes time, so that's why Angelo's is open for dinner only. Book a table and the chefs will spend the day preparing your set menu so you can spend the day dreaming of a feast shared with loved ones, new friends and old favourites. Only available on Pacific Aria, Pacific Eden and Pacific Explorer.
The Pantry
Our food court-style restaurant (Bye Bye Buffet) brings you a wealth of culinary creations from the best variety of international cuisine to creature comfort, modern Australian favourites. With menus changing daily, from the adventurous to family favourites, there's something for everyone!
Curry House:
Taste the flavours of the world's most exotic places at Curry House, a smorgasbord of classic curry flavours and authentic dishes.
Mexicana
Mexican tacos filled with favorites like homemade salsas and pickles, chili, guacamole, fresh lime and cheese. Yes please!
Kettle & Bun
Kettle & Bun is serving up freshly baked bread, expertly crafted sandwiches, great tasting salads and mouth-watering soups.
Sugar Bar
Indulge in a sweet selection of perfectly baked cakes, flaky buttery pastries and delightful individual desserts at Sugar Bar.
Hook's Fish & Chips
The local fish and chip shop, serving up crispy battered fish and hot chips with the perfect amount of crunch.
Stix
Stir-fries, sizzling noodles and soups. Indulge your passion for Asia's finest cuisines with the intriguing menu at Stix.
Fat Cow
Vegetarians beware. At Fat Cow we're serving up the finest cuts possible to send meat lovers into a flutter.
McGregor's Garden
Make friends with salad at McGregor's - serving up a selection of fresh salads that change daily.
Nic & Toni's
Serving Mediterranean dining options with fresh seafood and pasta dishes.
Dragon Lady
Take your taste buds east. Immerse yourself in the intoxicating flavours of Asia at Dragon Lady. From delicate sushi rolls to fragrant curries and spicy stir-fries, Dragon Lady is bringing the heat. With a sultry mix of dark timbers and midnight blue tones, it boasts an intimate and mysterious setting. Be seduced by the exotic scents and spices of a menu inspired by Australia's passion for Asian cuisine. Bursting with flavour, every mouthful promises a tantalising night in the Orient. Open every night for dinner, featuring a fixed menu giving guests the opportunity to enjoy a sensual feast of Chinese, Thai, Korean, Vietnamese, Indian or Japanese. Only available onboard Pacific Aria, Pacific Eden and Pacific Explorer.
Shell & Bones
The new seafood dining experience at sea. Enjoy a bounty of sumptuous seafood at our new venue, Shell & Bones. Featuring Singapore-style crab, steamed blue mussels, lobster Mornay and much more, this restaurant is set to reel in guests. Or, take a pick of items off the grill with beef short ribs and roasted chicken. Alongside, there are vegetarian options as well, with a sweet treat for all to finish.
Salt Grill by Luke Mangan
World famous food. An unforgettable dining experience is a highlight of every good holiday. We've partnered with Luke Mangan to bring you the first Australian celebrity chef restaurant at sea – Salt grill by Luke Mangan. Luke harnesses his experience, creativity and passion to turn the freshest and finest Australian ingredients into signature dishes like the crab omelet, enoki mushroom salad with miso broth, and the famous liquorice parfait with lime syrup. For an elegant meal or a haute high tea, one taste and you'll soon see why he's been invited to cook for former U.S President Bill Clinton, Richard Branson, Tom Cruise and at the wedding of Danish Crown Prince Fredrick and Princess Mary. At sea, Salt grill is exclusive to P&O cruises and its popularity has inspired land-based Salt grill restaurants in some of the best cities across the globe.
Price: Lunch $49pp* / Dinner $59pp* / High tea $29pp*
*All prices subject to change
400 Gradi
Foodies rejoice! Pacific Explorer is now home to a new Pizzeria, 400 Gradi, overseen by famed and award-wining Melbourne pizza chef Johnny Di Francesco who won the Best Pizza in the World award in 2014. Buon appetite!
Luke's
Following on from the success of Salt grill by Luke Mangan, we're excited to offer the trendy and casual al fresco outlet Luke's on Pacific Explorer, serving up some seriously delicious burgers.
A Taste of Salt / Chefs Table
Don't miss our favourite celebrity chef's new restaurant on Pacific Explorer. A Taste of Salt by Luke Mangan offers a mouth-watering degustation menu featuring a number of Luke's signature dishes.
Compliments to the Chef. Want to have the most exclusive dinner party on the ship? At Chef's Table you have the best seat in the house.
For a meal that is equal parts memorable and mouth-watering, join us and we will host a private dinner for you and your guests (Pacific Jewel caters for 10, Pacific Dawn may cater for up to 14 guests). Your evening will begin with a cocktail and canapé reception, hosted by the Executive Chef. Once seated at the intimate and private table, the Executive Chef will begin to introduce each course and it's expertly matched wine. At Chef's Table it's your job to relax amongst great company and indulge, as we serve up this extraordinary dining experience.
Onboard Pacific Explorer, the Chef's Table is known as Taste of Salt - an experience brought to you by Luke Mangan.
Price: $119* (including wines) *All prices subject to change
Turtle Cove
Ages: 2-5 years old
This is the place for the smallest member in your family! We just know they're going to be all smiles when they spend time in Turtle Cove. We put our best thinking caps on when we created the range of games, toys and activities for the kids aged 2-5 years old, which means they're not only fun but they're educational too! Plus, when playing in Turtle Cove your kids will be well supervised by our experienced youth staff. We think that's pretty cool! From play centre to arts and crafts, theme nights to talent shows – the hardest part of Turtle Cove is deciding what to do first. Please make sure your child is toilet trained, otherwise they won't be able to join in the fun at Turtle Cove.
We also offer children from 2 years of age, who are in nappies, the opportunity to participate in the activity program without the requirement of a parent or guardian to be in attendance. However, parents and guardians must be available at all times to change their children's nappy when contacted by our Youth team. As always, there are a limited number of places available in our youth centres and entry is a first come first served basis.
Waterslides
The young and the young at heart will enjoy hours of fun on the two waterslides. One is disco themed and features bright lights and music the whole way down!
Barefoot Bowls
Now you can play barefoot bowls at sea. Challenge your mates to a friendly game. Go on, just roll with it!
P&O Edge Adventure Park
Choose your Adventure with P&O Edge. The P&O Edge Adventure Park is your ticket to action and excitement. Try Rock Climbing, The Flying Fox, Walk the Plank and more.
Sorry, there is currently no Deck Plans data to display for this ship.
Itinerary
| Date | Port | Arrive | Depart |
| --- | --- | --- | --- |
| 17 Dec 2019 | SYDNEY | 00:00 | 04:00 PM |
| 18 Dec 2019 | AT SEA | | |
| 19 Dec 2019 | AT SEA | | |
| 20 Dec 2019 | ISLE OF PINES | 08:00 AM | 05:00 PM |
| 21 Dec 2019 | MARE | 08:00 AM | 05:00 PM |
| 22 Dec 2019 | MYSTERY ISLAND | 08:00 AM | 05:00 PM |
| 23 Dec 2019 | NOUMEA | 08:00 AM | 05:30 PM |
| 24 Dec 2019 | AT SEA | | |
| 25 Dec 2019 | AT SEA | | |
| 26 Dec 2019 | AT SEA | | |
| 27 Dec 2019 | SYDNEY | 07:00 AM | 00:00 |