Azamara Journey - 19 Dec 2021
Cruise Line: Azamara Club Cruises
Ship: Azamara Journey
Cruise Code: jr16k044
Departure Date: 19 Dec 2021
Departure Port: Perth (fremantle), Australia
Nights: 16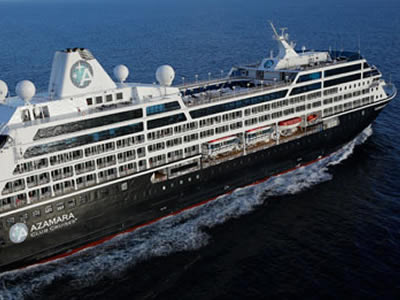 Cruise Line: Azamara Club Cruises
Ship: Azamara Journey
Cruise Code: jr16k044
Departure Date: 19 Dec 2021
Departure Port: Perth (fremantle), Australia
Nights: 16
Cabin
Price (pp)
Interior

Interior

09

$ 18,663

Interior

10

$ 18,378

Interior

11

$ 18,112

Interior

12

$ 17,827

Oceanview

Oceanview

04

$ 21,171

Oceanview

05

$ 20,905

Oceanview

06

$ 20,620

Oceanview

08

$ 20,335

Balcony

Balcony

P1

$ 25,085

Balcony

P2

$ 24,515

Balcony

P3

$ 24,249

Balcony

V1

$ 23,413

Balcony

V2

$ 23,128

Balcony

V3

$ 22,843

Suite

Suite

CO

$ 49,341

Suite

CW

$ 53,521

Suite

N1

$ 34,293

Suite

N2

$ 34,008

Suite

SP

$ 45,161

Cabin
Price (pp)
Interior

Interior

09

$ 9,996

Interior

10

$ 9,850

Interior

11

$ 9,713

Interior

12

$ 9,567

Oceanview

Oceanview

04

$ 11,283

Oceanview

05

$ 11,146

Oceanview

06

$ 11,000

Oceanview

08

$ 10,854

Balcony

Balcony

P1

$ 13,291

Balcony

P2

$ 12,999

Balcony

P3

$ 12,862

Balcony

V1

$ 12,433

Balcony

V2

$ 12,287

Balcony

V3

$ 12,141

Suite

Suite

CO

$ 25,738

Suite

CW

$ 27,883

Suite

N1

$ 18,016

Suite

N2

$ 17,870

Suite

SP

$ 23,593

Cabin
Price (pp)
Interior

Interior

09

$ 7,516

Interior

10

$ 7,418

Interior

11

$ 7,326

Interior

12

$ 7,228

Oceanview

Oceanview

04

$ 8,382

Oceanview

05

$ 8,290

Oceanview

06

$ 8,192

Oceanview

08

$ 8,093

Balcony

Balcony

P1

$ 9,732

Balcony

P2

$ 9,536

Balcony

P3

$ 9,444

Balcony

V1

$ 9,155

Balcony

V2

$ 9,057

Balcony

V3

$ 8,959

Suite

Suite

CO

$ 18,103

Suite

CW

$ 19,545

Suite

N1

$ 12,911

Suite

N2

$ 12,813

Suite

SP

$ 16,661

Cabin
Price (pp)
Interior

Interior

09

$ 6,260

Interior

10

$ 6,186

Interior

11

$ 6,117

Interior

12

$ 6,043

Oceanview

Oceanview

04

$ 6,912

Oceanview

05

$ 6,843

Oceanview

06

$ 6,769

Oceanview

08

$ 6,695

Balcony

Balcony

P1

$ 7,929

Balcony

P2

$ 7,781

Balcony

P3

$ 7,712

Balcony

V1

$ 7,495

Balcony

V2

$ 7,421

Balcony

V3

$ 7,347

Suite

Suite

CO

$ 14,235

Suite

CW

$ 15,322

Suite

N1

$ 10,325

Suite

N2

$ 10,251

Suite

SP

$ 13,149
Sorry, there is currently no Accommodation data to display for this ship.
Discoveries Lounge
Located just outside Azamara's main restaurant, this congenial bar is a favorite gathering place for pre- and post-dinner conversation and drinks. Bar service includes a full selection of fine wines, mixed drinks, and premium spirits…plus the entertaining banter of Azamara's friendly bartenders.
Mosaic @ Night
Our onboard coffee corner may very well become your favorite nook on the ship. And with brand new furniture on the Journey, it's bound to be one of the most stylish places, too. You'll find all your favorite coffee drinks and you can order them just the way you like. If you'd like to try our Nespresso specialty coffee (for a fee), Mosaic Café is the place. We recommend that you slip right into a comfortable seat and sip for a while—you never know who'll walk by.
Discoveries Restaurant
Discover the world through dishes and flavors from the places we visit. Whether it's our Destination Immersion dinner buffet or the Destination Immersion cuisine on our dinner menu, give your dining a little local flavor and enjoy on shore tastes onboard! Of course, you will also enjoy a wide variety of nightly selections such as filet mignon with black truffle sauce. With its elegant yet lively dining and renewed décor, it's easy to see why this restaurant is a hands-down favorite, the culinary heart of our ships. Gather at Discoveries Bar for drinks before or after dinner.
Reservations are not accepted. Choose being seated at a table for two or as part of a larger group of fellow guests (which we highly recommend! It's a great way to meet new people).
Aqualina
At Aqualina, you'll find some of Italy's most celebrated dishes. But you'll also find contemporary inventive cuisine. Start with lobster ravioli, followed by arugula and radicchio with prosciutto chips, and a Venetian seafood platter. You won't be able to say no to our famous desserts: marsala custard, lemon soufflé, or tiramisu. Our chefs love to be inspired, so after an on shore visit to a local market, you can also expect a delectable dish so local, you'll feel like you're not onboard anymore.
Specialty dining is complimentary for suite guests. For others, there is a $30 per-person cover. Reservations are highly recommended.
Due to the popularity of our specialty restaurants and regard for your fellow guests, a $15 late cancellation fee will be charged to your guest folio if a booking is not cancelled by noon on the day of your reservation.
Prime C
Steaks cooked to perfection. Crab cakes with remoulade. Lobster bisque. Lamb, game hens and seafood. And last but certainly not least, our famous mini cinnamon-sugar donuts with dipping sauces for dessert. (Yes, they are as good as they sound.) But at Prime C, you're in for more than an array of delectable dining. Expect a marvelous evening in a warm wood-paneled ambiance with stunning views and lush décor. And, if our chef has made a visit to a local market while we're in port, you'll also have an authentic local dish to look forward to, made just for you.
Specialty dining is complimentary for suite guests. For others, there is a $30 per-person cover. Reservations are highly recommended.
Due to the popularity of our specialty restaurants and regard for your fellow guests, a $15 late cancellation fee will be charged to your guest folio if a booking is not cancelled by noon on the day of your reservation.
The Spa
Staffed by professional aestheticians and therapists, the Azamara Spa is an oasis of tranquility. Choose from an extensive menu of services including:
The Sanctum Terrace: Enter your private spa deck with a bubbling salt water bath and powerful jets that massage you as you soak up the views.
Facial Glow services: State of the art skin care and restorative facials for men and women.
Massage therapy: Hot stone therapy, deep tissue massage, Swedish massage and other exotic massage treatments from around the world.
Body sculpting: Renewing seaweed wraps, cellulite reduction body sculpting, lime and ginger salt glows, and more.
Spa rituals: A selection of carefully crafted half and full-day packages including body sculpting, facials and massage for the ultimate in relaxation.
Teeth whitening services for bright beautiful smiles.
Reservations are required for most services, and slots quickly fill up, so please plan ahead. Please note that an 18% gratuity will be added to your folio for all spa treatments.
The Salon
Our full service salon offers a menu of professional services for men and women, including:
Hair styling and care including cuts, coloring, highlights and color correction.
Manicures and pedicures.
Salon favorites: Special packages of hair and scalp renewing rituals, milk-and-honey manicures and pedicures with massages, and barbering and grooming services.
Fitness Center
The secret to maintaining vitality? Exercise more. Many Azamara guests are eager to do just that, and we make it easy with complimentary group classes like sunset yoga on the deck, Pilates, cycling, core workouts, and nutrition classes.
Not the class type? Then head to our well-equipped Fitness Center filled with lifecycles, treadmills, stair-steppers and weights and work out at your own pace as you enjoy spectacular ocean views.
Ramp up the benefits with specialized training (for additional cost):
Customized personal training: Certified personal trainers will work with you to develop a customized workout plan and lead you through individualized instruction. Take written material back home and keep it up! Customized Pilates instruction is also available.
Body Sculpt Boot Camp: Offered by the spa, this get-fit boot camp includes individual analysis with a personal trainer and four supervised group workouts.
Acupuncture
A voyage is a great time to experience the benefits of this ancient Chinese system of healing. Acupuncture strengthens the immune system, fights disease and controls pain while dissolving accumulated stress and restoring the body's natural balance and energy.
Azamara's acupuncturists are experienced practitioners licensed by the National Certification Commission for Acupuncture and Chinese Medicine. A variety of treatments are available for pain management, smoking cessation, weight loss, stress reduction and more. After just one session, you may notice immediate benefits in circulation, heart, stomach, skin and mood. Please inquire at the Spa for scheduling and pricing.
Specialized services include:
Acu-Lift: A safe, painless and effective rejuvenating treatment for the face and body. This treatment improves muscle tone, increases circulation and cellular metabolism, and stimulates the natural production of collagen and elastin. You'll see a more youthful look in moments, and improvements in skin texture and smoothness.
Nutritional Consultation: These hour-long nutritional consultations start with a thorough investigation into your diet and lifestyle. You'll come away with a personalized diet plan based on current nutritional research and a Chinese medical diagnosis. Personal physical concerns and constitutional sensitivities will be addressed, and you'll have a pathway to better health.
Our acupuncture program at sea can also address chronic issues with supplemental nutritional advice. Only the purest, highest quality, chemical-free herbs are used to create these formulas. Most of the herbs used in production are organically grown to ensure safety and efficacy.
Sorry, there is currently no Deck Plans data to display for this ship.
Itinerary
| Date | Port | Arrive | Depart |
| --- | --- | --- | --- |
| 01 Jan 2022 | SYDNEY (WHITE BAY) - AUSTRALIA | | |
| 02 Jan 2022 | SYDNEY (WHITE BAY) - AUSTRALIA | | 14:00:00 |
| 03 Jan 2022 | AT SEA | | |
| 04 Jan 2022 | MELBOURNE - AUSTRALIA | 07:00:00 | |
| 19 Dec 2021 | PERTH (FREMANTLE) - AUSTRALIA | | |
| 20 Dec 2021 | PERTH (FREMANTLE) - AUSTRALIA | | 18:00:00 |
| 21 Dec 2021 | AT SEA | | |
| 22 Dec 2021 | ALBANY - AUSTRALIA | 08:00:00 | 17:00:00 |
| 23 Dec 2021 | ESPERANCE - AUSTRALIA | 09:00:00 | 18:00:00 |
| 24 Dec 2021 | AT SEA | | |
| 25 Dec 2021 | AT SEA | | |
| 26 Dec 2021 | ADELAIDE - AUSTRALIA | 08:00:00 | 22:00:00 |
| 27 Dec 2021 | KANGAROO ISL (PENNESHAW) - AUS | 08:00:00 | 17:00:00 |
| 28 Dec 2021 | PORTLAND - AUSTRALIA | 13:00:00 | 20:00:00 |
| 29 Dec 2021 | AT SEA | | |
| 30 Dec 2021 | EDEN - AUSTRALIA | 07:30:00 | 15:00:00 |
| 31 Dec 2021 | SYDNEY (WHITE BAY) - AUSTRALIA | 08:00:00 | |